Jeffrey T Scruggs, Assistant Professor of Civil and Environmental Engineering and Energy Initiative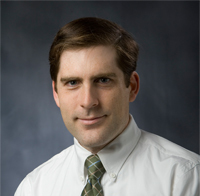 Professor Scruggs's research concerns the dynamics and control of electromechanical vibratory systems. His research bridges the fields of power electronics, structural mechanics, and nonlinear control. The primary focus of his current work concerns the use of feedback control and power electronics to optimize power management in various kinds of vibratory transduction systems.
One current project concerns the control of seismically-excited civil structures, toward the reduction of risk. Due to the unreliability of external power during earthquakes, such systems must operate in the absence of external power. This research considers control systems which electrically extract energy from a structure, using motors as transducers. By using power electronics to manage this extracted energy, it can be dissipated, transmitted from one place in a structure to another, or stored for reuse.
Another current project involves the use of floating structures to harvest energy from ocean waves. One simple of example of this concept is an array of resonant buoys, each anchored to the ocean floor, and equipped with power generators that convert the heave motion of the waves into electrical energy. Work in this area is focused on the optimal control of power generation from such floating systems, in the presence of random waves.
A third project involves the use of small vibratory transducers to scavenge energy from ambient structural vibration in transportation vehicles and civil structures. Such systems are especially useful in wireless sensing applications. Work in this area is focused on the development of design techniques for scavenging energy from broadband stochastic disturbances.
| | |
| --- | --- |
| Office Location: | 165 Hudson |
| Office Phone: | +1 919 660 5075 |
| Email Address: | |
Education:

| | | |
| --- | --- | --- |
| PhD, Applied Mechanics | California Institute of Technology | 2004 |
| MS, Applied Mechanics | California Institute of Technology | 2000 |
| MS, Electrical Engineering | Virginia Tech | 1999 |
| BS, Electrical Engineering | Virginia Tech | 1997 |
Specialties:

Earthquake Engineering, adaptive structures
Nonlinear Dynamics
Structural Engineering
Vibration
Alternative Energy
Current Ph.D. Students

Ian Cassidy
Steve Lattanzio
Representative Publications (More Publications)

J.T. Scruggs, An Optimal Stochastic Control Theory for Distributed Energy Harvesting Networks, Journal of Sound and Vibration, vol. 320 (2009), pp. 707-725
A.A. Taflanidis, J.T. Scruggs, and J.L. Beck, Reliability-based performance objectives and probabilistic robustness in structural control applications, Journal of Engineering Mechanics, vol. 134 no. 4 (2008), pp. 291-301
J.T. Scruggs, A.A. Taflanidis, W.D. Iwan, Non-linear stochastic controllers for semiactive and regenerative systems with guaranteed quadratic performance bounds - Part 1: State feedback control, Journal of Structural Control & Health Monitoring, vol. 14 no. 8 (2007), pp. 1101-1120 [ABSTRACT]
J.T. Scruggs, Multi-objective optimization of regenerative damping systems in vibrating structures, American Control Conference, 2007. ACC '07 (2007) [freeabs_all.jsp]
J.T. Scruggs and W.D. Iwan, Optimal nonlocal and asymmetric structural damping using regenerative force actuation networks, Journal of Engineering Mechanics, vol. 132 no. 9 (2006), pp. 932 - 940 [(ASCE)0733-9399(2006)132:9(932)] [abs]