Catherine C. Workman, Graduate Assistant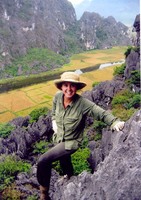 | | |
| --- | --- |
| Office Location: | 09 Biological Sciences Building |
| Office Phone: | +1 919-660 7384 |
| Email Address: | |
| Web Page: | |
Office Hours:

by appointment
Education:

| | | |
| --- | --- | --- |
| M.A. | University of Colorado, Boulder | |
| B.A. | University of Colorado, Boulder | |
Research Interests:

My dissertation research is on the Delacour's langurs (Trachypithecus delacouri), one of the six limestone langur taxa of Southeast Asia. Delacour's langurs inhabit isolated, rugged limestone karst mountains in Northern Vietnam, although the reason for their current restriction to this habitat is unclear. The occupation of karst habitats by limestone langurs has been attributed to the refuge these rocky outcrops provide in a dramatically anthropogenically-altered landscape. Conversely, several ecological explanations have been proposed to account for their distribution. To address if Delacour's langurs show special adaptations to limestone karst or if they are exploiting a refuge habitat into which they have been pushed, I quantified their foraging ecology by systematically investigating their diet and feeding ecology, the chemisty of their eaten leaves, and the locomotions and substrates they utilized.
Areas of Interest:

Biodiversity conservation
Primate ecology
Food choice
Adaptation
Illegal wildlife trade in SE Asia
Limestone langurs
Recent Publications (search)

C Workman, Diet of the Delacour's langur (Trachypithecus delacouri) in Van Long Nature Reserve, Vietnam, Am J Primatol (Spring, 2010).
with C Workman, Le Van Dung The chemistry of eaten and uneaten leaves by Delacour's langurs (Trachypithecus delacouri) in Van Long Nature Reserve, Vietnam, Viet J Primatol, vol. 3 (2009), pp. 29-36.
C Workman, HH Covert, Learning the ropes: the ontogeny of locomotion in red-shanked douc (Pygathrix nemaeus), Delacour's (Trachypithecus delacouri) and Hatinh (Trachypithecus laotum hatinhensis) langurs. I. Positional behavior., Am J Phys Anthropol, vol. 128 no. 2 (2005), pp. 371-380.
C Workman, Primate conservation in Vietnam: toward a holistic environmental narrative, American Anthropologist, vol. 106 no. 2 (2004), pp. 346-352.