Keval K. Khalsa, Professor of the Practice Emerita of Dance
| | |
| --- | --- |
| Office Location: | Rubenstein Arts Center 209K, 2020 Campus Drive, Durham, NC 27708-0685 |
| Office Phone: | (919) 660-3373 |
| Email Address: | keval.khalsa@duke.edu |
Overview: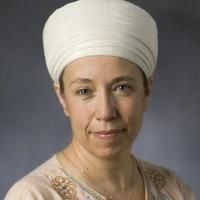 My spiritual path is that of a Sikh, which translates as "student". As a life-long learner, my research focus is embodied, experiential education, particularly that which promotes social change. I am interested in ways that dance, theater and yoga can be used as tools for personal and social transformation, particularly with communities often identified as "at risk". Current research projects include:
• a BASS Connections-supported study of the effects of a regular yoga practice on middle school students in Orange County, NC,
• the use of interactive theater to address issues of domestic violence, sexual assault, and sexual health.
Typical Courses Taught:
Dance 155, Kundalini yoga and sikh dharma Synopsis

Dance 62, Modern dance 3 Synopsis

Dance 154s, Performance & social change

Dance 200t, Senior project

Dance 135s, Dance composition Synopsis

Theatrst 95fcs, Art of transformation

Dance 81, Repertory: modern
Education:



M.A., Ohio State University, 1981
Specialties:

Choreography
Performance
Technique
Yoga
Research Interests:

Kundalini Yoga, Sikh Dharma, Choreography & Performance, Boal-based Theater techniques

Current projects:

Professional Trainer, Level I Teacher Training Courses in the US and Ghana, West Africa, North Carolina Regional Coordinator, Y.O.G.A. for Youth, Associate Trainer, Y.O.G.A. for Youth Teacher Training in North Carolina, Co-Coordinator, Across The Threshold Working Group
Areas of Interest:

Modern Dance
Choreography & Performance
Kundalini Yoga
Sikh Dharma
Boal-based Theater
Professional Work and Scholarship
Other
Subject of Feature story in the Independent Weekly (June 9, 2010) [Content] .
Choreography:
Choreography for "The Miser", March - April, 2010
Night of Renewal, Bring Me Your Breasts, Freedom Seekers, 2010
Pieces of Clay, Reynolds Theater, Duke University, 2007
The Black Saint & The Sinner Lady, 2007
Night of Renewal, 2006
2 Near The Edge Dance Company Performances, 2006, 2006
Aad Nuacht, 2006
Oblivion, 2006
2 Near The Edge Dance Company Performances, 2005, 2005
2 Near The Edge Dance Company Performances, 2002, 2002
2 Near The Edge Dance Company Performances, 2001, 2001
2 Near The Edge Dance Company Performances, 1999, 1999
Two Near The Edge, Duet dance company, 1992
Directorships:
Regional Coordinator, Y.O.G.A. for Youth North Carolina, 2010 - present
The Miser, March, 2010
Two Near The Edge, Duet dance company, 1992-2010
Keval K Khalsa: Festivals, 2003, 2003
Performance:
Kirtan (Sacred Music), January 23, 2010
2 Near The Edge Dance Company Performances, 2010, 2010 -
2 Near The Edge Dance Company Performances, 2009, 2009 -
2 Near The Edge Dance Company Performances, 2008, 2008
Pieces of Clay, Reynolds Theater, Duke University, 2007/04/21
2 Near The Edge Dance Company Performances, 2007, 2007
Performance of Freedom Seekers lecture-demonstration, W. Johnston High School, Johnston County, NC, 2006/02/17
Performance of Freedom Seekers lecture-demonstration, Washington Elementary School, Raleigh, NC, 2006/02/24
Performance of Oblivion, St. Mary's College, Raleigh, NC, 2006/01/10
Performance of Oblivion, Nelson Music Room, Duke University, 2006/02/19
Premiere of full-length work Night of Renewal, Kwanzaa Celebration at the Hayti Heritage Center, Durham, NC, 2006/12/26
Showcase performance of Night of Renewal, Raleigh-Wake County Cultural Arts Festival, Raleigh, NC, 2006/08/26
Performance of Oblivion, Duke Dance Program's Choreolab, Duke University, 2006/04/01
Night of Renewal, NC Museum of History, Raleigh, NC, 2006/01/31
Performing and teaching residency, W. Johnston County High School, Johnston County, NC, 2005/12/09
Workshop for The Power of the Arts in Education Conference, Hayti Heritage Center, Durham, NC, 2005/05/28
2 performances of Freedom Seekers, Baileywick Elementary School, Raleigh, NC, 2005/05/03
2 Near The Edge 2002 Itinerary, January 1, 2002 - December 31, 2002
2 Near The Edge 2001 Itinerary, January 1, 2001 - December 31, 2001
2 NEAR THE EDGE 2000 ITINERARY, January 1, 2000 - December 31, 2000
2 Near The Edge Dance Company Performances, 2000, Duke University, Rhode Island College, 2000 -
2 NEAR THE EDGE 1999 ITINERARY, January 1, 1999 - December 31, 1999
Guest Teaching:
Kundalini Yoga Level I 200-hour Teacher Training, Accra, Ghana, West Africa, August 19-20, 2011
Y.O.G.A. for Youth Teacher, 2011 - present
Kundalini Yoga Level I 200-hour Teacher Training, Asheville, North Carolina, January 13-16, February 10-13, March 10-
Y.O.G.A. for Youth 40-hour Teacher Training, Durham, North Carolina, February 4-6, March 4-6
Community Teaching, 2006-present
Teaching Assistant, Y.O.G.A. for Youth Teacher Training in Los Angeles, CA, May 19-23, 2010
Y.O.G.A. for Youth teacher, 2010
Guest Teaching, September 24, 2010
Professional Member, Kundalini Research Institute Aquarian Academy, 2008 - present
Kundalini Yoga & Meditation, 2010 - present
Conferences:
Criatividade Ser Cura/Across The Threshold: Creativity, Being & Healing, Salvador, Bahia, Brazil, October 3-8, 2011
International Kundalini Yoga Festival, Lome, Togo, West Africa, August 10-13, 2011
Kundalini Yoga Festival, 2011, Asheville, North Carolina, May 20-22
American College Dance Festival Association's Mid-Atlantic Regional Conference, March 18-21, 2010
International Kundalini Yoga Teachers' Association Teacher Trainer Forum, Espanola, NM, June 17, 2010
3HO Winter Solstice Sadhana, Lake Wales, FL, December 19, 2009
3HO Summer Solstice Sadhana, June 20, 2008
American College Dance Festival Association's Mid-Atlantic Regional Conference, Goucher College, Baltimore, MD, March 12-15, 2008
National Communication Association Annual Conference, San Diego, CA, November 21, 2008
3HO Summer Solstice Gathering, Espanola, NM, 2007/06/15
International Association of Black Yoga Teachers Annual Yoga Summit, Accra, Ghana, 2007
Speculating on the South, 2007
Summer & Winter Solstice Gatherings and White Tantric Yoga, New Mexico, Florida, Georgia, Tennessee, 2007
3HO Summer Solstice Gathering, Espanola, NM, 2006/06/16
3HO Winter Solstice Gathering, Lake Wales, FL, 2006/12/19
American College Dance Festival Association's Mid-Atlantic Regional Conference, Reston, WV, 2006/01/27
Pedagogy & Theatre of the Oppressed International Conference, UNC-Chapel Hill, Chapel Hill, NC, May 5-6, 2006
Summer & Winter Solstice Gatherings and White Tantric Yoga, New Mexico, Florida, Georgia, Tennessee, 2006
3HO Summer Solstice Gathering, Espanola, NM, 2005/06/17
3HO Winter Solstice Gathering, Lake Wales, FL, 2005/12/19
The Power of the Arts in Education, Hayti Heritage Center, Durham, NC, 2005
Summer & Winter Solstice Yoga Retreats & White Tantric Yoga, Espanola, NM; Lake Wales, FL; Atlanta, GA; Knoxville, TN; Herndon, VA, 2001/2002
Summer and Winter Solstice Gatherings; White Tantric Yoga, Espanola, NM; Lake Wales, FL; Atlanta, GA; Knoxville, TN; Herndon, VA, 2000
Mothers 2000, St. Joseph's Historic Foundation, Durham, NC, April 30, 2000
Master Classes:
Kundalini Yoga Master Class, Grand Valley University, Allendale, Michigan, June 27, 2011
Modern Dance Masterclass, North Carolina State University, Raleigh, NC, January 18, 2011
Workshops:
Kundalini Yoga Festival, Asheville, North Carolina, May 20-22, 2011
Workshop with Joanna Macy, UNC - Chapel Hill, September 19, 2011
White Tantric Yoga, Knoxville, Tennessee, October 22, 2011
Workshop with Bonnie Bainbridge Cohen, Freeman Center, Duke University, October 16, 2011
Healing from Traumatic Stress, Duke Center for Integrative Medicine, September 28, 2011
Kundalini Yoga Teacher Trainer Forum, Espanola, New Mexico, June 16, 2011
Level II Kundalini Yoga Teacher Training Course -- Life Cycles & Lifestyles, June 27 - July 3, 2010
Level II Kundalini Yoga Teacher Training Course -- Mind & Meditation, November 8-14, 2010
Level II Kundalini Yoga Teacher Training Course -- Conscious Communication, Rishikesh, India, November 1-7, 2010
French I and II, Duke Continuing Studies, Fall, 2009 - Spring, 2010
Kirtan Intensive, Espanola, NM, July 7-14, 2009
Level 2 Kundalini Yoga & Meditation course -- Vitality & Stress, June 28-July 4, 2009
Vocal workshop, Asheville, NC, May 23-24, 2009
White Tantric Yoga, Herndon, VA, October 17, 2009
Kundalini Yoga class series at RTI, Research Triangle Park, NC, July 29 - August 19, 2008
Level 2 Kundalini Yoga & Meditation course -- Authentic Relationships, Espanola, New Mexico, June, 2006
Oral History Workshop, San Francisco Performing Arts Library and Museum, San Francisco, CA, 2005
Sikh Mysticism Course, Hofstra University, Hempstead, NY, 2005
Festivals:
2003 Mid-Atlantic American College Dance Festival, NC State University, Raleigh, NC, March, 2003
Other Activities:
Community Partner Liason -- Nina Prieur's "Performance Studies: Performing Social Justice" course, Durham, North Carolina, January - April, 2011