Martin Uribe, Professor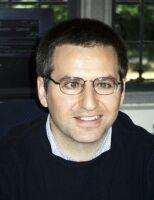 Please note: Martin has left the "Economics" group at Duke University; some info here might not be up to date.
Office Hours:

By appointment
Education:

| | | |
| --- | --- | --- |
| PhD | University of Chicago | 1994 |
| MA | Centro de Estudios Macroecon´omicos de Argentina (CEMA) | 1989 |
| BA | Universidad Nacional de C´ordoba (Argentina) | 1987 |
Specialties:

Macroeconomics
Research Interests: Macroeconomics

Professor Uribe received his PhD from the University of Chicago in 1994. He joined the Duke faculty in 2003 after spending five years on the faculty at the University of Pennsylvania and four years at the Division of International Finance of the Board of Governors of the Federal Reserve System. He has held visiting positions at the Goethe Universitat Frankfurt, Princeton University, the Federal Reserve Bank of Philadelphia, and the European Central Bank. Professor Uribe is currently a Faculty Research Fellow at the National Bureau of Economic Research and serves as Associate Editor for the Journal of International Economics and the Journal of Money, Credit, and Banking. His research lies in the fields of International Finance and Monetary Economics. His work focuses on explaining business cycles in emerging economies and on the design of optimal monetary and fiscal policies.
Current Ph.D. Students

Javier Garcia Cicco
Xuan Liu
Z. Vivian Yue
Felipe Zanna
Giancarlo Gasha
Marcos Buscaglia
Recent Publications (More Publications)