Charles J. Del Dotto, Graduate Student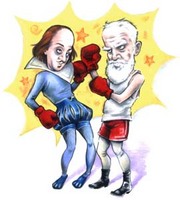 Office Phone: (919) 684-5538
Email Address: cjd@duke.edu

Education:
A.M., Duke University, 2002
A.B. cum laude, Princeton University, 1999

Areas of Interest:
Theater and Performance Studies
Medieval and Renaissance Studies
Modernist Studies
Film (especially Classic Hollywood)
Literary, Dramatic, and Critical Theory
Recent Publications
Book Review, Mary Luckhurst's Dramaturgy: A Revolution in Theatre, Theatre Survey, vol. 48 no. 1 (May, 2007) .
"T. S. Eliot as Medieval Modernist: Period and Ideology in 'Religious Drama: Mediaeval and Modern'", The Journal of Religion and Theatre, vol. 5 no. 2 (Fall, 2006) .
"Martyrdom, Nonconsequentialism, Anagogical Temporality: Interrogating Ends and Means / Transcending Endings and Beginnings in T. S. Eliot's Murder in the Cathedral" (2007?) (Under review as a solicited manuscript for a collection on "Sacrifice and the Human Relationship to Violence," edited by David Pan.) .
Bio/Profile
Though broadly interested in all areas of performance studies and comparative drama, Mr. Del Dotto's main area of research is the history of British theater, from the medieval premodern to the contemporary postmodern. The courses he has taught include Shakespeare and Appropriation, Contemporary Political Drama, English Renaissance Drama, 1587-1642, and American Drama and Film, 1945-1960. His interests cross the "page/stage" divide and encompass dramatic literature, performance practice, and production history. He attended the "Shakespeare and Performance" seminar at the Folger Institute (Washington, D.C., February 2003), and he served as a dramaturg on a university production of Shakespeare's Love's Labor's Lost (Duke U., Fall 2003). From summer 2001 to summer 2004 he was the Assistant Director of the Duke in London Drama Program, a study-abroad theater program for theater studies majors and non-majors alike. In spring 2007 Mr. Del Dotto will defend his dissertation, Engaging and Evading the Bard: Shakespearean Modernism On, Off, and Around the British Stage, 1900-1964, on theater historiography, Shakespearean appropriation, and British theatrical modernism from William Archer to Peter Brook. He has given papers on various aspects of drama, theater, and performance at the Modern Language Association (Philadelphia, 2004), American Comparative Literature Association (Princeton U., Princeton, 2006), College English Association (San Antonio, 2006), and International Shaw Society (Brown U., Providence, 2006). He has twice presented at the North Carolina Colloquium in Medieval and Renaissance Studies (2001 and 2003) at Duke University; he co-organized the 2005 conference. In academic year 2006-07 he will deliver two papers, "Theatricalizing (Outer) Space: Family, Cosmos, and the Dramaturgy of Zero Gravity in Robert Lepage's The Far Side of the Moon" and "Against 'Original Practices' Performance: Reifying Renaissance Drama at Shakespeare's Globe Theatre, London," at the "Other Spaces" conference (Department of Romance Studies, Duke U.) and Midwest Modern Language Association (Chicago), respectively; be a participant in a reading group on new books by Martin Puchner and W. B. Worthen at the American Society for Theatre Research (Chicago); convene a special session at MLA (Philadelphia) entitled "George Bernard Shaw at 150: Theater, Criticism, Contemporaneity"; and chair a roundtable on "Shakespeare's Audiences Now" at the Shakespeare Association of America (San Diego). He will also serve as Visiting Lecturing Fellow in the Department of Theater Studies at Duke University.