Benjamin F. Ward, Adjunct Associate Professor and Associate Dean for Faculty Programs
edit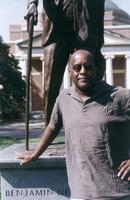 Office Location: 09E West Duke Building
Office Phone: +1 919-660-3139, +1 919-660-3050
Fax: +1 919-660-3060
Email Address:

Office Hours:

Fall 2004: MW 3:00 - 5:00 pm
Specialties:

Continental Philosophy
Research Interests:

Benjamin F. Ward (Ph.D. 1972, Yale) joined the Duke faculty in 1980. His teaching embraces courses in Modern Standard Arabic, comparative literature, German Studies, as well as philosophy. His essays and reviews have appeared in The Review of Metaphysics, The Southern Humanities Review, The Indian Journal of Philosophy, and The Journal of Music Theory, among others. He has recently completed two manuscripts -- one on romantic aesthetic theory and the other on the aesthetics of performance. He has served for a number of years as a Woodrow Wilson National Scholar and has been a humanities consultant to the Mellon and Woodrow Wilson Foundations. He also serves regularly as Scholar-in-Residence at Sewickley Academy in Pennsylvania and at the North Carolina Governor's School in Winston-Salem, where he also serves on the Board of Visitors. Professor Ward is also a concert pianist who performs in solo recitals and with orchestras and chamber ensembles throughout the U.S. and abroad. He is one of five Duke faculty members to have been engaged to videotape a series of six lectures each for national and international distribution in the "Duke Great Teachers Series." Professor Ward's group of lectures, entitled "A Question of Art," seeks to throw new light on some fundamental issues in aesthetics. He is currently a book reviewer for the Review of Metaphysics and has recently been named a member of the Board of Visitors of the North Carolina School of the Arts in Winston-Salem.
Areas of Interest:

Aesthetics,
Philosophy of Music,
Philosophy of Sport,
Process Philosophy,
Existentialism,
Philosophy of Education,
Frankfurt School
---