Steffen A Bass, Professor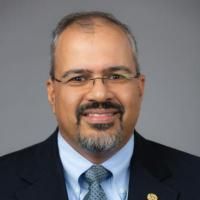 Office Location: 261D Physics
Office Phone: (919) 660-2479
Email Address: bass@phy.duke.edu
Web Page: http://www.phy.duke.edu/~bass/
Specialties:
Theoretical nuclear physics
Education:
Dr. Phil. Nat., Johann Wolfgang Goethe Universitaet, Frankfurt, Germany, 1997
Diplom-Physiker, Johann Wolfgang Goethe Universitaet Frankfurt, Germany, 1993

Research Categories: Theoretical Nuclear and Particle Physics
Research Description: Prof. Bass' main area of research is strong interaction theory, in particular the study of highly excited many-body systems governed by the laws of Quantum-Chromo-Dynamics (QCD).
It is believed that shortly after the creation of the universe in the Big Bang all matter susceptible to QCD was in a state called the Quark Gluon Plasma (QGP). Due to the rapid expansion of the Universe, this plasma went through a phase transition to form hadrons -- most importantly nucleons -- which constitute the building blocks of ordinary matter as we know it today. The investigation of QGP properties will yield important novel insights into the development of the early universe and the behavior of QCD under extreme conditions.
Ultrarelativistic heavy-ion collisions offer the unique ability to investigate this hot and dense QCD matter under laboratory conditions and to probe the properties of the QCD vacuum. It is hoped that during the evolution of such collisions a transitory state of deconfined quarks and gluons will be created, the so-called Quark-Gluon-Plasma (QGP).
Due to the fundamental confining properties of the physical QCD vacuum, however, the deconfined quanta (i.e. the quarks and gluons) are not directly observable. What is observable are hadronic and leptonic residues of this transient deconfined state. Currently, experiments are underway at the newly commissioned Relativistic Heavy-Ion Collider (RHIC) at Brookhaven National Laboratory (BNL), to create a QGP and investigate its properties.
The first couple of years of RHIC operations have yielded a vast amount of interesting and sometimes surprising results, many of which have not yet been fully evaluated or understood by theory. However, there exists mounting evidence that RHIC has indeed created a hot and dense state of deconfined QCD matter with properties similar to that of an ideal fluid (see here for a BBC news article featuring quotes of Prof. Bass) - this state of matter has been termed the strongly interacting Quark-Gluon-Plasma (sQGP).
Prof. Bass is actively involved in developing models for the dynamics of such highly energetic heavy-ion collisions. His research involves the application of transport theory, statistical mechanics, heavy-ion phenomenology, as well as the fundamental laws of QCD. Only through the application of dynamical models of heavy-ion collisions and the comparison of their predictions with data, may a link be formed between the observable hadronic and leptonic final state of the heavy-ion reaction and the transient deconfined state of quarks and gluons.
Areas of Interest:
Transport-theoretical description of relativistic heavy-ion collisions
Properties of mesons and hyperons in hot and dense hadronic matter
Exotic matter states: resonance-matter, hyper-matter
Parton Cascades and Hadronization in a microscopic approach
Description of Colliding Quark Matter with SU(2) Dynamics
Teaching (Fall 2013):
Recent Publications (More Publications) (search)
Current Ph.D. Students (Former Students)
Postdocs Mentored

Marlene Nahrgang (January 1, 2013 - present)
Hannah Petersen (January 1, 2010 - September 30, 2012)
Guangyou Qin (October 1, 2009 - October, 2011)
Abhijit Majumder (October 1, 2005 - August, 2008)
Thorsten Renk (January 1, 2004 - September 30, 2005)
Chiho Nonaka (September 1, 2002 - August 30, 2005)