Dong Liu, Post Doctoral Associate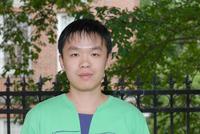 Office Location: 294 Physics
Office Phone: 919-668-3547
Email Address: dl35@phy.duke.edu

Specialties:
Theoretical condensed matter physics
Nanophysics
Education:
PhD, 2012
PhD Expected 2012/08

Research Description:
1. Majorana fermion zero mode in proximity-induced semiconducting nanowire
(1.1) Propose a method to detect Majorana Fermion zero mode by using a quantum dot (PRB Rapid Comm.)
(1.2) Floquet topological phase and Majorana Fermion in semiconductor wire/superconductor bulk system in the presence of periodically driven field (on-going).
(1.3) Study the gate-induced dissipation, disorder, and interaction effect in topological one dimensional superconducting wire (on-going).

2. Quantum phase transition and Kondo effect in quantum impurity models

Strong electronic correlations create a variety of interesting phenomena including quantum phase transitions, emergence of new symmetries,and Kondo resonances. Today, quantum dot, coupled quantum dots, and Josephson junction arrays provide controlled and tunable experimental quantum systems to study strong correlation effects.
Projects:
(2.1) Quantum Phase Transition and Emergent Symmetry in Quadruple quantum dot system (PRL)
(2.2) Dissipative-induced quantum phase transition in a quantum dot with ohmic environments (Manuscripts in Preparation)
(2.3) Boundary Quantum Phase Transition and Kondo Effect in Superconducting Qubit and Josephson Junction Arrays (on-going)

3. Mesoscopic Anderson Box: Connecting Weak to Strong Coupling
Different Fermi liquid phases can arise in different parameter regimes (controlled by different fixed points) of the same physical system. It is interesting to ask how the quasi-particles in one Fermi liquid are related to those in the other. In this project, we demonstrate a system in which there is a continuous connection between two distinct Fermi liquids, asking whether the mesoscopic variation in the two limits is correlated.( EPL accepted and Manuscripts in Preparation)

4. Equilibrium transport calculation by using quantum monte carlo

Quantum Monte Carlo is formulated in imaginary time rather than real time: to extract dynamic properties one must transform from imaginary back to real time. The statistical error in the QMC data makes this an ill-posed problem, for which various extrapolation and continuation methods have been developed.
Projects :
(4.1) Maximum Entropy method (Work well for high termperture)
(4.2) Extrapolation of QMC data based on Kubo formula (PRB)
Representative Publications (More Publications)
Dong E. Liu, S´ebastien Burdin, Harold U. Baranger, and Denis Ullmo, From Weak- to Strong-Coupling Mesoscopic Fermi Liquids, Europhys. Lett., 97, 17006 (2012) [17006], [doi] .
Dong E. Liu and Harold U. Baranger, Detecting a Majorana-Fermion Zero Mode Using a Quantum Dot, Phys. Rev. B, 84, 201308(R) (2011) [PhysRevB.84.201308], [doi] .
Dong E. Liu, Shailesh Chandrasekharan, Harold U. Baranger, Quantum Phase Transition and Dynamically Enhanced Symmetry in Quadruple Quantum Dot System, Phys. Rev. Lett. 105, 256801 (2010) [e256801] .