Bruce W. Jentleson, William Preston Few Distinguished Professor of Public Policy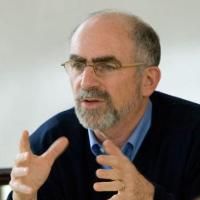 Contact Info:
Teaching (Spring 2023):
PUBPOL 212.01, GLOBALIZATION/PUBLIC POLICY Synopsis

Rubenstein 149, MW 01:45 PM-03:00 PM

PUBPOL 290S.11, SELECTED TOPICS Synopsis

Rubenstein 151, Tu 01:45 PM-04:15 PM
Education:



Ph.D., Cornell University, 1983
M.S., London School of Economics (United Kingdom), 1975
B.A., Cornell University, 1973
Specialties:

International Relations
Security, Peace, & Conflict
Political Institutions
Representative Publications (More Publications)

B.W. Jentleson, American Foreign Policy: The Dynamics of Choice in the 21st Century, New York: W.W. Norton and Company, 5th edition forthcoming (2013) .
Jentleson, BW, Tough Love Multilateralism, The Washington Quarterly, vol. 27 no. 1 (Winter, 2003), pp. 5-24, Informa UK Limited [doi] .