Laurent M. Dubois, Marcello Lotti Professor of Romance Studies and History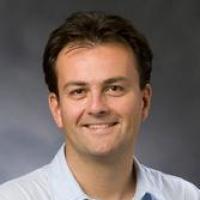 Teaching (Fall 2015):
CULANTH 501S.01, ANTHROPOLOGY AND HISTORY Synopsis

Languages 312, Tu 01:25 PM-03:55 PM
(also cross-listed as HISTORY 572S.01, ROMST 521S.01)
Education:

| | | |
| --- | --- | --- |
| PhD | University of Michigan | 1998 |
| BA | Princeton University | 1992 |
Specialties:

French
Caribbean Studies
Modern and Contemporary
Decolonial and Post-colonial Studies
Globalization, Postmodernity, Contemporaneity
Historicism
The Enlightenment in a Global Perspective
Research Interests: Anthropology, History and Literature of the French Caribbean and the Atlantic World

I am a specialist on the history and culture of the Atlantic world, with a focus on the Caribbean and particularly Haiti. I am the faculty director of the Forum for Scholars and Publics at Duke University, and write for magazines including the New Republic, Sports Illustrated, and the New Yorker. My current research and writing focuses on the Afro-Atlantic history of the banjo. I am completing a book (under contract with Harvard University Press) on the topic. I have received a Mellon New Directions Fellowship, a National Humanities Fellowship, and a Guggenheim Fellowship to support this work. My most recent book Haiti: The Aftershocks of History (2012) tells the history of the country from it's founding revolution to the present day. In 2010 I published Soccer Empire: The World Cup and the Future of France, and continue to write about soccer at my blog Soccer Politics. I have also recently co-edited, with Julius Scott, a reader entitled Origins of the Black Atlantic and, with Thomas Bender and Richard Rabinowitz, the catalogue for the exhibit Revolution!: The Atlantic World Reborn, for which I was co-chair of the scholar's committee. I am also co-editing the "Haiti Reader" for Duke University Press. I advise graduate students in both History and Romance Studies, working on a range of topics in Caribbean and French colonial and post-colonial studies.
Areas of Interest:

Caribbean
French Atlantic
Contemporary France
Afro-Atlantic Music and Religion
Duties:

Marcello Lotti Professor of Romance Studies and History Director, Center for French and Francophone Studies Co-Director, Haiti Laboratory, Franklin Humanities Institute
Current Ph.D. Students (Former Students)

Michael J. Becker
Claire A. Payton
Eliza Dandridge
Joaquin Bueno
Reginald Patterson
Postdocs Mentored
Representative Publications (More Publications)

Haiti's Traces, Small Axe: A Caribbean Journal of Criticism, vol. 39 (November, 2012), pp. 177-187
The Hijab on the Pitch, The Feminist Wire (August 3, 2012) [available here]
Haiti: The Aftershocks of History (2012), Metropolitan Books
With Thomas Bender and Richard Rabinowitz, Revolution! The Atlantic World Reborn (2011), Giles Ltd [available here]
With Jean Casimir, Reckoning in Haiti, in Haiti Rising: Haitian History, Culture and the Earthquake of 2010, edited by Martin Munro (2010), University of West Indies Press
Egalite for All: Human Rights and the Haitian Revolution (2008) (I was the head historical consultant for Koval Films on a documentary on the Haitian Revolution, aired on PBS in January 2009..) [html]
With Madison Smartt Bell, The Haitian Revolution at the Crossroads: A Discussion Between Madison Smartt Bell and Laurent Dubois, Common-Place.org, vol. 7 no. 4 (July, 2007) [available here]
Eloge Pour Michel-Rolph Trouillot, Transition, vol. 109 (Fall, 2012), pp. 21-32
With Alexander Wolff, French World Cup Hero Thuram Working to Battle Racism in Soccer and Society, Sports Illustrated (June 1, 2012) [html]
Soccer Empire: The World Cup and the Future of France (2010), University of California Press
Laurent Dubois and Julius S. Scott, Origins of the Black Atlantic (2009), Routledge [product_detail.asp]
With Michel Giraud, Marc-Olivier Padis, and Patrick Weil, "Une histoire à transmettre," interview with Lilian Thuram,, Esprit (February, 2007), pp. 117-123 [details.php]
Dessalines Toro d'Haiti, William and Mary Quarterly, vol. 3rd ser, 69 no. 3 (July, 2012), pp. 541-548
Founding Editor, Soccer Politics Blog (to Present) [wcwp]
With John Garrigus, Slave Revolution in the Caribbean, 1789-1804: A Brief History With Documents (2006), Bedford Press [newcatalog.aspx]
Thinking Haiti, Ayiti Kraze/Haiti in Fragments, Social Text Periscope (2010) [php]
Les Vengeurs du Nouveau Monde: Histoire de la Révolution haïtienne (2006), Editions Les Perseides [index.php]
An Atlantic Revolution, French Historical Studies, vol. 32 no. 4 (Fall, 2009), pp. 655-661 [655]
Avengers of the New World: The Story of the Haitian Revolution (2004), The Belknap Press of Harvard University Press [html]
With Bernard Camier, Voltaire, Zaïre, Dessalines: Le Théâtre des Lumières dans L'Atlantique français, Revue d'histoire moderne et contemporaine, vol. 54 no. 4 (December, 2007), pp. 39-69
A Colony of Citizens: Revolution and Slave Emancipation in the French Caribbean, 1787-1804 (2004), Published for the Omohundro Institute by the University of North Carolina Press [html]
Capturing Louverture, Small Axe, vol. 23 (June, 2007), pp. 177-185
Les esclaves de la République: l'histoire oubliée de la première émancipation, 1789-1794 (1998), Calmann-Lévy,
The Haitian Revolution and the Sale of Louisiana, The Southern Quarterly: A Journal of Arts in the South, vol. 44 no. 3 (Spring, 2007), pp. 18-41
Histoires d'esclavage en France et aux Etats-Unis, Esprit (February, 2007) [details.php]
With Erol Josué, Le Vodou, Miroir de l'histoire: Dialogue, Tabou: Revue du Musée d'Ethnologie de Genève, vol. 5 (2007), pp. 325-340 [edition.php]
An Enslaved Enlightenment: Re-Thinking the Intellectual History of the French Atlantic, Social History, vol. 31 no. 1 (February, 2006), pp. 1-14
'Citoyens et Amis!' Esclavage, citoyenneté et République dans les Antilles françaises à l'époque révolutionnaire, Annales, vol. 58 no. 2 (March-April 2003), pp. 281-304 [htm]
Republican Racism and Anti-Racism: A Caribbean Genealogy, French Politics, Culture and Society, vol. 18 no. 3 (Fall, 2000), pp. 5-17
Republic At Sea: On the Margins of the New Europe, Transition, vol. 79 (June, 1999), pp. 64-70
'The Price of Liberty': Victor Hugues and the Administration of Freedom in Guadeloupe, 1794-1802, William and Mary Quarterly, vol. Quarterly 3rd series, LVI no. 2 (April, 1999), pp. 363-392
A Spoonful of Blood: Blaming Haitians for AIDS, Science as Culture, vol. 6 no. 26 (Winter, 1997), pp. 7-43
Conferences Organized

Africans in the Americas: Making Lives in a New World, 1675-1825, Chair, Programming Committee, January, 2012 - March, 2013
"The Common Wind" Conference, November, 2008