Negar Mottahedeh
Associate Professor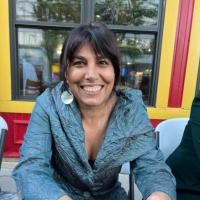 Office Location: 125C Friedl Building (E. Campus), Buchanan And Trinity, Durham, NC 27708-0670
Office Phone: (919) 681-3461
Email Address: negar@duke.edu
Web Page: https://negarmottahedeh.squarespace.com
Specialties:
Film Theory & History
Cultural Studies
Cultural Studies
Critical Theory
Education:
Ph.D., University of Minnesota, Twin Cities, 1998
M.A., University of Minnesota, Twin Cities, 1994
B.A., Mount Holyoke College, 1990

Research Categories: Comparative World Cinemas, and Middle Eastern Studies
Research Description: Assistant professor of Literature, received her Ph.D. from the department of Cultural Studies and Comparative Literature at the University of Minnesota in 1998. Her current research and writing focuses on emergent cinematic codes in contemporary film cultures. Her two forthcoming books are on Iranian 19th visual culture and contemporary Iranian Cinema.
Areas of Interest:
Middle East, North Africa, Eastern Asia
Teaching (Fall 2018):
LIT 302S.01, Hashtags memes, digital tribes Synopsis

Friedl bdg 102, WF 01:25 PM-02:40 PM

LIT 320S.01, Social movements/social media Synopsis

Friedl bdg 102, WF 11:45 AM-01:00 PM
Representative Publications (More Publications) (search)
Mottahedeh, N, Representing the Unpresentable: Images of Reform from the Qajars to the Islamic Republic of Iran (2008), Syracuse University Press [html] .
Mottahedeh, N, Displaced Allegories: Post-Revolutionary Iranian Cinema (2008), Duke University Press [books.php3] .
Mottahedeh, N, 'Life is Color!' Towards a Transnational Feminist Analysis of Mohsen Makhmalbaf's 'Gabbeh', Signs, vol. 30 no. 1 (2004), pp. 1403-1426 (Special Issue on film feminisms.) [abs].
Mottahedeh, N, Off the Grid: Reading Iranian Memoirs in Our Time of Total War, Middle East Research and Information Project (September 2004) [html] .
Mottahedeh, N, Collection and Recollection: On Studying the Early History of Motion Pictures in Iran, Early Popular Visual Culture, vol. 6 no. 2 (June, 2008), pp. 103-120 .
Highlight:
I am a cultural critic and theorist specializing in interdisciplinary and feminist contributions to the fields of Middle Eastern Studies and Film and Media Studies. I have published four books on Iranian Cinema, the history of reform, revolution and the uses of social media in protest. My new book "#iranelection: Hashtag Solidarity and the Transformation of Online Life" (Stanford University Press, 2015) is about one such social media mobilization. "#iranelection" follows the protest movement around Iran's fraudulent presidential election in 2009 to investigate how emerging social media platforms developed as a result of the international solidarity around the hashtag. Just as the world turned to social media platforms to understand the events on the ground, social media platforms adapted and developed to accommodate global activism. "#iranelection" reveals the new online ecology of social protest and offers a prehistory, of sorts, to the uses of hashtags and trending topics, of selfies and avatar activism, citizen journalism and YouTube mashups.



Languages
Fluent: English, Farsi (Modern Persian), Norwegian Bokmål and Nynorsk
Proficient: French, German, Arabic (Classical and Modern), Spanish