Negar Mottahedeh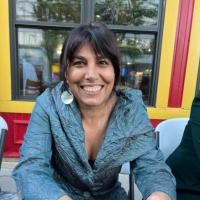 Office Location: 125C Science Building
Office Phone: +1 919 681 3461
Email Address: negar@duke.edu

Specialties:
Film Theory & History
Cultural Studies
Cultural Studies
Critical Theory
Education:
PhD, University of Minnesota, 1998
MA, University of Minnesota, 1994
BA, Mount Holyoke College, 1990
Other, New College, Oxford University, 1988

Research Categories: Comparative World Cinemas, and Middle Eastern Studies
Research Description: Assistant professor of Literature, received her Ph.D. from the department of Cultural Studies and Comparative Literature at the University of Minnesota in 1998. Her current research and writing focuses on emergent cinematic codes in contemporary film cultures. Her two forthcoming books are on Iranian 19th visual culture and contemporary Iranian Cinema.
Areas of Interest:
Middle East, North Africa, Eastern Asia
Teaching (Fall 2015):
LIT 890S.01, Seminars in lit (topics) Synopsis

Crowell 106, M 11:45 AM-02:15 PM
Representative Publications (More Publications) (search)
N. Mottahedeh, Representing the Unpresentable: Images of Reform from the Qajars to the Islamic Republic of Iran (2008), Syracuse University Press [html] .
N. Mottahedeh, Where are Kiarostami's women?, Alphabet City (2003) (9,400 words.) .
N. Mottahedeh, Displaced Allegories: Post-Revolutionary Iranian Cinema (2008), Duke University Press [books.php3] .
N. Mottahedeh, "Life is Color!" Towards a transnational feminist analysis of Mohsen Makhmalbaf's Gabbeh, Signs (2004) (Special Issue on film feminisms.) .
N. Mottahedeh, Off the Grid: Reading Iranian Memoirs in Our Time of Total War, MIddle East Research and Information Project (September 2004) [html] .
N. Mottahedeh, Karbala Drag Kings and Queens, The Drama Review (Winter, 2005) (73-85.) .
N. Mottahedeh, "Collection and Recollection: on studying the early history of the motion pictures in Iran", Early Popular Visual Culture (June, 2008) .