Benoit Charbonneau, Visiting Assistant Professor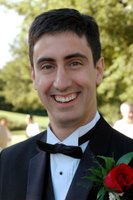 Please note: Benoit has left the Mathematics department at Duke University; some info here might not be up to date.
Education:

| | | |
| --- | --- | --- |
| PhD | Massachusetts Institute of Technology | 2004 |
| MSc | Université du Québec à Montréal | 1999 |
| BSc | Université du Québec à Montréal | 1998 |
Specialties:

Geometry
Research Interests: Gauge theory, more specifically Nahm transforms, Yang-Mills instantons, and their dimensional reductions, and moduli spaces of vector bundles

Please click here for statement of research accomplishments and plans.
Areas of Interest:

Differential geometry
Algebraic geometry
Gauge theory
Keywords:

Gauge theory • Nahm transform • Periodic Yang-Mills instantons • Gravitational instantons • Calorons • Monopoles • Moduli spaces of vector bundles
Recent Publications (More Publications)
Recent Grant Support

Geometry of vector bundles and moduli spaces of instantons, National Science and Engineering Research Council (NSERC) Discovery Grant, 2011/04-2016/04.
Conferences Organized
Security: For more secure communication, please use my PGP (GnuPG) public key.