Weitao Yang, Professor of Chemistry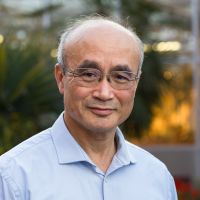 Teaching (Fall 2013):
CHEM 310.01, PHYSICAL CHEMISTRY Synopsis

Bio Sci 155, MWF 12:00 PM-12:50 PM

CHEM 542.01, QUANTUM MECHANICS Synopsis

Gross Hall 105, MWF 08:45 AM-09:35 AM
Education:

February 1978 - February 1982 BS degree in Chemistry, Peking University, Beijing China August 1982 - September 1986 Ph.D. degree in Chemistry, under the direction of Professor Robert G. Parr, University of North Carolina, Chapel Hill. Disser
Specialties:

Physical
Theory and Modeling
Nanoscience and Materials
Biomolecular Structure and Function
Research Interests:

Prof. Yang, the Philip Handler Professor of Chemistry, is developing methods for quantum mechanical calculations of large systems and carrying out quantum mechanical simulations of biological systems and nanostructures. His group has developed the linear scaling methods for electronic structure calculations and more recently the QM/MM methods for simulations of chemical reactions in enzymes.
Current Ph.D. Students (Former Students)

Zack Scholl
Timothy Heaton-Burgess
Degao Peng
Pan Wu
Steven Burger
Zhenyu Lu
Jing Song
Postdocs Mentored

Rogelio Cuevas-Saavedra (2011/12-present)
Robin Chaudret (2011 - present)
Jun Wang (2011/12-present)
Helen van Agellen (2011/12-present)
Neil Shenvi (2010 - present)
Timothy Heaton-Burgess (2009 - present)
Zhigang Sun (2009 - 2011)
Ganglong Cui (2009 - 2011)
Aaron Virshup (2009/01-present)
Julia Contreras-Garcia (2009 - 2011)
Xiao Zheng (2008 - 2011)
Kazuhiro Fujimoto (2007)
Erin Johnson (2007 - 2010)
Christopher Rinderspacher (2006 - January 15, 2009)
Felipe Bulat (2005 - 2008)
Xiangqiang Hu (2005/01-present)
Zhenyu Lu (2005)
David Mazziotti (NSF fellow) (2004)
Shahar Keinan (2004-2008)
Mingliang Wang (2003 - 2005)
Aron Cohen (2003 - 2008)
Hao Hu (2003 - 2008)
Takumi Hori (2003 - 2005)
Paula Mori-Sanchez (2002 - 2009)
Hong Jiang (2002)
San-Huang Ke (2001 - 2009)
Amy Boone (2001-2004)
Paul W. Ayers (NIH fellow) (June 2001-July 2002)
Yingkai Zhang (May 2000-November 2000)
Haiyan Liu (November 1998-November 2000)
Christer Enkivist (January 1997-December 1997)
James Lewis (June 1996-May 1998)
Jose Perez-Jorda (January 1995-September 1996)
Qinsheng Zhao (March 1994-November 1994)
Darrin York (NSF Fellow) (August 1993-April 1996)
Surya Panigrahy (Marhc 1992-July 1993)
Chengteh Lee (July 1991-January 1992)
Zhongxiang Zhou (April 1991-December 1991)
Wei-Xiong Wu (1989 - 1991)
Recent Publications (More Publications)

J. Contreras-Garcia, E. R. Johnson, S. Keinan, R. Chaudret, J. P. Piquemal, D. N. Beratan, and W. T. Yang, Nciplot: A program for plotting noncovalent interaction regions., Journal of Chemical Theory and Computation no. 7 (2011), pp. 625-632
J. Contreras-Garcia, W. T. Yang, and E. R. Johnson, Analysis of hydrogen-bond interaction potentials from the electron density: Integration of noncovalent interaction regions., Journal of Physical Chemistry A no. 115 (2011), pp. 12983-12990
G. L. Cui and W. T. Yang, Conical intersections in solution: Formulation, algorithm, and implementation with combined quantum mechanics/molecular mechanics method, Journal of Chemical Physics no. 134 (2011), pp. 204115
D. H. Ess, E. R. Johnson, X. Q. Hu, and W. T. Yang, Singlet-triplet energy gaps for diradicals from fractional-spin density-functional theory, Journal of Physical Chemistry A no. 115 (2011), pp. 76-83
X. Q. Hu, H. Hu, J. A. Melvin, K. W. Clancy, D. G. McCafferty, and W. T. Yang, Autocatalytic intramolecular isopeptide bond formation in gram-positive bacterial pili: A qm/mm simulation, Journal of the American Chemical Society no. 133 (2011), pp. 478-485