Richard S. Keefe, Professor in Psychiatry and Behavioral Sciences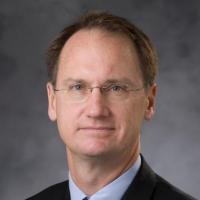 Education:

| | | |
| --- | --- | --- |
| Ph.D. | New York University | 1990 |
Research Interests:

Schizophrenia, psychosis, cognition, pharmacologic treatment of cognitive impairment, sport psychology, functional imaging (PET, fMRI), frontal cortex, motor functions.
Representative Publications (More Publications) (search)

Keefe, R.S.E., Silverman, J., Mohs, R.C., Siever, L.J, Harvey, P.D., Friedman, L., Lees Roitman S.E., DuPre R.L., Smith C.J., Schmeidler, J., and Davis, K.L. Eye tracking, attention, and schizotypal personality symptoms in nonpsychotic relatives of schizophrenic patients. Archives of General Psychiatry 54: 169-177, 1997..
Keefe, R.S.E., Mohs, R.C., Losonczy, M.F., Davidson, M., Silverman, J.M., Kendler, K.S., Nora, R., Horvath, T.B., and Davis, K.L. Characteristics of very poor outcome schizophrenia. American Journal of Psychiatry 1987; 144:889-895..