Farshid Guilak, Professor of Orthopaedic Surgery and Biomedical Engineering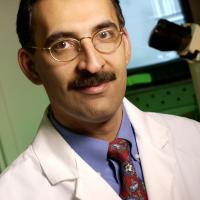 Specialties:

Tissue Repair, Tissue Engineering
Recent Publications (More Publications)

Liu, B; Goode, AP; Carter, TE; Utturkar, GM; Huebner, JL; Taylor, DC; Moorman Iii, CT; Garrett, WE; Kraus, VB; Guilak, F; DeFrate, LE; McNulty, AL, Matrix metalloproteinase activity and prostaglandin E2 are elevated in the synovial fluid of meniscus tear patients., Connective Tissue Research (Informa) (November, 2016), pp. 1-12 [abs].
Jayes, FL; Liu, B; Moutos, FT; Kuchibhatla, M; Guilak, F; Leppert, PC, Loss of stiffness in collagen-rich uterine fibroids after digestion with purified collagenase Clostridium histolyticum., American Journal of Obstetrics & Gynecology, vol. 215 no. 5 (November, 2016), pp. 596.e1-596.e8 [doi] [abs].
Huebner, JL; Landerman, LR; Somers, TJ; Keefe, FJ; Guilak, F; Blumenthal, JA; Caldwell, DS; Kraus, VB, Exploratory secondary analyses of a cognitive-behavioral intervention for knee osteoarthritis demonstrate reduction in biomarkers of adipocyte inflammation., Osteoarthritis and Cartilage, vol. 24 no. 9 (September, 2016), pp. 1528-1534 [doi] [abs].
Moutos, FT; Glass, KA; Compton, SA; Ross, AK; Gersbach, CA; Guilak, F; Estes, BT, Anatomically shaped tissue-engineered cartilage with tunable and inducible anticytokine delivery for biological joint resurfacing., Proceedings of the National Academy of Sciences of USA, vol. 113 no. 31 (August, 2016), pp. E4513-E4522 [doi] [abs].