Adrienne D. Stiff-Roberts, Associate Professor of Electrical & Computer Engineering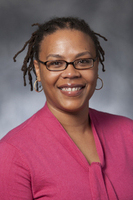 Dr. Stiff-Roberts received both the B.S. degree in physics from Spelman College and the B.E.E. degree in electrical engineering from the Georgia Institute of Technology in 1999. She received an M.S.E. in electrical engineering and a Ph.D. in applied physics in 2001 and 2004, respectively, from the University of Michigan, Ann Arbor, where she investigated high-temperature quantum dot infrared photodetectors. Dr. Stiff-Roberts joined Duke University as an Asst. Professor in August 2004.
Teaching (Fall 2013):
PHYSICS 320L.01L, OPTICS AND PHOTONICS Synopsis

Teer 212, Th 03:05 PM-05:35 PM
(also cross-listed as ECE 340L.01, VMS 325L.01)

PHYSICS 320L.02L, OPTICS AND PHOTONICS Synopsis

Teer 212, F 01:25 PM-03:55 PM
(also cross-listed as ECE 340L.02, VMS 325L.02)

VMS 325L.001, OPTICS AND PHOTONICS Synopsis

Hudson 201, MW 03:05 PM-04:20 PM
(also cross-listed as ECE 340L.001, PHYSICS 320L.001)
Teaching (Spring 2014):
ECE 496.01, SPECIAL TOPICS Synopsis

Teer 211, MW 03:05 PM-04:20 PM
Education:

| | | |
| --- | --- | --- |
| PhD | University of Michigan, Ann Arbor | 2004 |
| MSE | University of Michigan, Ann Arbor | 2001 |
| BEE | Georgia Institute of Technology | 1999 |
| BS | Spelman College | 1999 |
Research Interests:

Nanomaterials resulting from quantum confinement in three dimensions, known as nanoparticles or quantum dots, exhibit unique characteristics compared to conventional, bulk materials because of their small size, and because nanomaterials can be tailored to exhibit desired properties by controlling their synthesis and their incorporation into thin films. My research group investigates two different types of quantum dots. First, epitaxial quantum dots (EQDs) are inorganic, compound semiconductor nanomaterials synthesized in ultra-high vacuum, crystal growth systems, such as molecular beam epitaxy (MBE). These nanostructures are three-dimensional islands with a lens or pyramid shape that are affixed to a substrate and result from strained-layer epitaxy, which occurs due to the lattice mismatch between the EQD material and a surrounding compound semiconductor material (matrix). Second, colloidal quantum dots (CQDs) are dielectric, semiconductor, or metallic nanomaterials synthesized by inorganic chemistry and surrounded by organic molecules such that they are soluble. These nanostructures often have a spherical shape and are frequently embedded in an organic matrix material, such as charge conducting polymers. These material systems are then called organic/inorganic hybrid nanocomposites. Hybrid nanocomposites are especially interesting because they could enable a new class of optoelectronic devices that are low-cost, can be deployed in novel ways, and can provide multiple functions for unique applications. For example, the simultaneous detection of light across different wavelength regions, or multi-spectral photodetection, could be achieved by integrating different CQDs in a single device. An important challenge to making useful devices from hybrid nanocomposites is controlling the synthesis of thin films. A novel component of my research is a hybrid nanocomposite thin film deposition technique known as matrix-assisted pulsed laser evaporation (MAPLE). My group has established a new approach to MAPLE deposition that drastically expands its applicability to numerous material systems and yields thin films with structural properties comparable to the best achieved using traditional solution-based techniques.An important aspect of my work is to demonstrate the value added by MAPLE in terms of electrical and optical properties of hybrid nanocomposite thin films, as well as enhanced device performance and unique device structures that can be achieved.
Recent Publications

A.D. Stiff-Roberts, Quantum dot infrared photodetectors, edited by P. Bhattacharya, R. Fornari, and H. Kamimura, Comprehensive Semiconductor Science and Technology, vol. 6 (2011), pp. 452-485, Elsevier, Elsevier
R. Pate, K. R. Lantz, A. Dhawan, T. Vo-Dinh, and A. D. Stiff-Roberts, Resonant Infrared Matrix-Assisted Pulsed Laser Evaporation of Inorganic Nanoparticles and Organic/Inorganic Hybrid Nanocomposites, AIP Conference Proceedings (International Symposium on High Power Laser Ablation), vol. 1278 (November, 2010), pp. 812-823 [abs]
L. Chen, H. Yang, Z. Qiang, H. Pang, L. Sun, Z. Ma, R. Pate, A. Stiff-Roberts, S. Gao, J. Xu, G. J. Brown, and W. Zhou, Colloidal quantum dot absorption enhancement in flexible Fano filters, Applied Physics Letters, vol. 96 (February, 2010), pp. 083111 [abs]
A. D. Stiff-Roberts, K. R. Lantz, and R. Pate, Room-temperature, mid-infrared photodetection in colloidal quantum dot/conjugated polymer hybrid nanocomposites: a new approach to quantum dot infrared photodetectors, Journal of Physics D: Applied Physics, vol. 42 (November, 2009), pp. 234004 [abs]
R. Pate, K. R. Lantz, and A. D. Stiff-Roberts, Resonant infrared matrix-assisted pulsed laser evaporation of CdSe colloidal quantum dot/poly[2-methoxy-5-(2′-ethylhexyloxy)-1,4-(1-cyano vinylene)phenylene] hybrid nanocomposite thin films, Thin Solid Films, vol. 517 (October, 2009), pp. 6798-6802 [abs]