David N. Beratan, Professor of Chemistry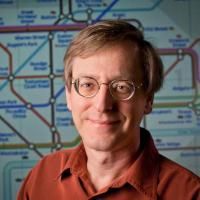 Teaching (Fall 2013):
CHEM 590.01, SPECIAL TOPICS IN CHEMISTRY Synopsis

French Sci 2237, Th 06:15 PM-08:45 PM
Education:

| | | |
| --- | --- | --- |
| PhD | California Institute of Technology, Pasadena | 1985 |
| BS | Duke University, North Carolina | 1980 |
Specialties:

Physical
Theory and Modeling
Biomolecular Structure and Function
Nanoscience and Materials
Research Interests:

Dr. Beratan, R.J. Reynolds Professor of Chemistry, is exploring the molecular mechanisms that enable the function of complex biological machines and molecular materials. Recent advances from his theoretical chemistry research group have elucidated electron tunneling and hopping pathways in proteins and DNA, have helped to define the mechanism of energy transduction in nitrogenase, and have established reliable methods to compute the specific rotation angles of chiral natural products. Additional topics of investigation in Beratan's group include the mechanism of transport in conducting atomic force microscope experiments and the inverse design of new materials. Beratan's group is also exploring new approaches to teach undergraduate physical chemistry.

Prof. Beratan is part of the Computational Biology and Bioinformatics , Nanosciences, and Phononics programs at Duke, and he holds secondary appointments in the Departments of Physics and Biochemistry.
Keywords:

electron transfer theory • tunneling pathways • theory of chirality • bioenergetics • inverse design
Current Ph.D. Students (Former Students)

Chetan Rupakheti
Jiaxing Lin
Nicholas Polizzi
Yves Wang
Nan Jiang
Postdocs Mentored

David Minh (2011/11-present)
Julia Contreras-Garcia (2009 - 2011)
Aaron Virshup (2009/12-present)
Aleksey Kuznetsov (2009/12-present)
Christopher Rinderspacher (2007 - 2009)
Elizabeth Hatcher (2006-2007)
Balamurugan Desinghu (2006 - 2010)
Ravindra Venkatramani (2006 - present)
Xiangqian Hu (2005 - present)
Alexander Balaeff (2005 - present)
Gerard Zuber (2004 - 2008)
Shahar Keinan (2004 - 2011)
Ilya Balabin (2004 - 2009)
Recent Publications (More Publications)

A. Balaeff, S.L. Craig, and D.N. Beratan, B-DNA to Zip-DNA: Simulating a DNA Transition to a Novel Structure with Enhanced Charge Transport Characteristics, J. Phys. Chem. A no. 115 (2011), pp. 9377-9391
K. Susumu, J.A.N. Fisher, J.R. Zheng, D.N. Beratan, A.G. Yodh, and M.J. Therien, Two-photon absorption properties of proquinoidal D-A-D and A-D-A quadrupolar chromophores, J. Phys. Chem. A no. 115 (2011), pp. 5525-5539
H. Carias, D.N. Beratan, and S.S. Skourtis, Floquet analysis for vibronically modulated electron tunneling, J. Phys. Chem. B no. 115 (2011), pp. 5510-5518
J. Contreras-García, S. Keinan, D.N. Beratan, W. Yang, E.R. Johnson, R. Chaudret, NCIPLOT: a program for plotting non-covalent interaction regions, J. Chem. Theory Comput. no. 7 (2011), pp. 625-632
R. Venkatramani, S. Keinan, A. Balaeff, and D.N. Beratan, Electron transfer in nucleic acids: Black, white, and gray, Coord. Chem. Revs. no. 255 (2011), pp. 635-648