David J. Brady, Michael J. Fitzpatrick Professor of Electrical & Computer Engineering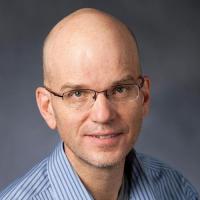 David Brady leads the Duke Imaging and Spectroscopy Program (DISP), which builds computational imaging systems. Current DISP projects focus on snapshot gigapixel photography using multiscale optics, gigapixel holography, x-ray scatter tomography and compressive spectral imaging.
Teaching (Spring 2018):
COMPSCI 281K.01, COMPUTATIONAL PHOTOGRAPHY Synopsis

DKUA 3103, MTu 03:45 PM-05:40 PM; DKUA 3103, W 03:45 PM-04:55 PM
Education:

| | | |
| --- | --- | --- |
| Ph.D. | California Institute of Technology | 1990 |
| M.S. | California Institute of Technology | 1986 |
| B.A. | Macalester College | 1984 |
Specialties:

Optical imaging
Photonics
Sensing and Sensor Systems
Homeland Security
Research Interests:

DISP uses joint design of physical sampling and digital processing strategies to develop high performance sensor systems. DISP builds instruments for visible, infrared, ultraviolet, x-ray, millimeter wave, terahertz, acoustic and ion imaging and spectroscopy. DISP has made particular contributions to the theory and practice of compressive measurement systems and to spectral imaging, holography and diffraction tomography, optical projection tomography and high pixel count cameras.
Keywords:

imaging • spectroscopy
Recent Publications (More Publications)

Brady, DJ; Pang, W; Li, H; Ma, Z; Tao, Y; Cao, X, Parallel cameras, Optica, vol. 5 no. 2 (February, 2018), pp. 127-137 [doi] [abs]
Zhang, W; Cao, L; Jin, G; Brady, D, Full field-of-view digital lens-free holography for weak-scattering objects based on grating modulation, Applied Optics, vol. 57 no. 1 (January, 2018), pp. A164-A171 [doi] [abs]
Zhang, H; Cao, L; Zhang, H; Zhang, W; Jin, G; Brady, DJ, Efficient block-wise algorithm for compressive holography, Optics express, vol. 25 no. 21 (October, 2017), pp. 24991-24991 [doi]
Chen, L-S; Yue, T; Cao, X; Ma, Z; Brady, DJ, High-resolution spectral video acquisition, Frontiers of Information Technology and Electronic Engineering, vol. 18 no. 9 (September, 2017), pp. 1250-1260 [doi]
Pang, W; Brady, DJ, Galilean monocentric multiscale optical systems, Optics express, vol. 25 no. 17 (August, 2017), pp. 20332-20332 [doi]