Duke International Faculty Database
Explore the range of faculty engagement with world regions and global issues by browsing the Faculty Database System or by searching for particular keywords (major world area, country, research topic, etc).
While the Duke International website strives to provide a comprehensive listing of Duke faculty with international research interests, you may also find additional information by exploring school-specific faculty listings
---
N. Gregson Davis, Dean of Humanities, Professor of Classical Studies (joint with Literature) and Andrew W. Mellon Professor of the Humanities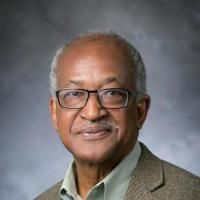 Education:

| | | |
| --- | --- | --- |
| Ph.D. | University of California - Berkeley | 1969 |
| B.A. | Harvard University | 1960 |
Research Interests:

Current projects: Vergil, Walcott, Antigua

My primary field of research in Classical Studies is ancient Greek and Latin poetry, and my the focus of my published word has been on the interpretation of the poetry of the Augustan poets, Horace, Vergil and Ovid. I also pursue research in contemporary Caribbean Literature, with special emphasis on the Francophone and Anglophone literary traditions (particularly the poetry of the Martinican, Aime Cesaire, and the St.Lucian, Derek Walcott). My chief current research project is a monograph on the interplay of ideas in Vergil's Bucolic verse (Eclogues).
Areas of Interest:

rhetoric
semiotics
Classics
poetry
Keywords:

Europe • Caribbean • Classics • Horace • Ovid • Cesaire • Vergil • Walcott
Current Ph.D. Students (Former Students)
Recent Publications (More Publications)

Euphrosyne, edited by Davis, G; Burian, P; Clay, JS, Beiträge Zur Altertumskunde, vol. 370 (2020), de Gruyter
Crichlow, MA; Davis, G, Introduction, South Atlantic Quarterly, vol. 115 no. 3 (July, 2016), pp. 437-440, Duke University Press [doi]
Davis, G, Forging a caribbean literary style: Vulgar eloquence and the language of césaire's cahier d'un retour au pays natal, South Atlantic Quarterly, vol. 115 no. 3 (July, 2016), pp. 457-467, Duke University Press [doi]
Davis, G, Journal of a Homecoming, in Cahier d'un retour au pays natal by Aimé Césaire (2016), Duke University Press (translated by Davis, G.) [abs]
Davis, G, Aimé Césaire, in Dictionary of Caribbean and Afro-Latin American Biography (2015)