Duke International Faculty Database
Explore the range of faculty engagement with world regions and global issues by browsing the Faculty Database System or by searching for particular keywords (major world area, country, research topic, etc).
While the Duke International website strives to provide a comprehensive listing of Duke faculty with international research interests, you may also find additional information by exploring school-specific faculty listings
---
Fredric Jameson, William A. Lane Professor of Comparative Literature and Romance Studies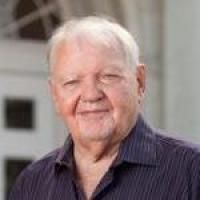 | | |
| --- | --- |
| Office Location: | 101 Friedl Building |
| Office Phone: | (919) 684-4155 |
| Email Address: | |
Teaching (Fall 2021):
LIT 690-8.01, PARADIGMS MODERN THOUGHT (TOP) Synopsis

Online ON, TuTh 10:15 AM-11:30 AM
(also cross-listed as GERMAN 690.01)
Education:

| | | |
| --- | --- | --- |
| Ph.D. | Yale University | 1959 |
| M.A. | Yale University | 1956 |
| B.A. | Haverford College | 1954 |
Specialties:

French
Critical Theory
Modern and Contemporary
European Studies
Globalization, Postmodernity, Contemporaneity
Modernity and Modernism
Space Studies, Urban Studies
Critical Theory, Philosophy
Film, Media and Visual Studies
Comparative Studies: Translation, Travel Narratives, Trans-Culturality
Marxism
Research Interests:

Among Professor Jameson's ongoing concerns is the need to analyze literature as an encoding of political and social imperatives, and the interpretation of modernist and postmodernist assumptions through a rethinking of Marxist methodology. His most frequently taught courses cover modernist literature and cinema, Marx and Freud, Nietzsche, Heidegger, Sartre, and Zizek, as well as the modern French novel and cinema, and the Frankfurt School. Professor Jameson is also the author many books, including Marxism and Form (1971), The Political Unconscious (1981), and Postmodernism, or, The Cultural Logic of Late Capitalism (1990, recipient of the MLA Lowell Award). His more recent works include Valences of the Dialectic (2009), The Antinomies of Realism (2013, recipient of the Truman Capote Award), and The Ancients and the Postmoderns (2015).
Keywords:

World • Third World • Theory • Literature
Recent Publications (More Publications)

Jameson, FR, On levels and categories, Historical Materialism, vol. 29 no. 1 (January, 2021), pp. 221-233 [doi] [abs]
Jameson, F, Aesthetics today, Clcweb: Comparative Literature and Culture, vol. 22 no. 3 (January, 2020), pp. 1-4 [doi]
Jameson, F, On Literary and Cultural Import-Substitution in the Third World: The Case of the Testimonio, Novoe Literaturnoe Obozrenie no. 165 (2020), pp. 58-74
Jameson, FR, ROBERT VENTURI 1925-2018, Artforum International, vol. 57 no. 5 (January, 2019), pp. 39-40
Jameson, F, Preface, Rethinking Marxism, vol. 30 no. 3 (July, 2018), pp. 333-335, Informa UK Limited [doi]