Duke International Faculty Database
Explore the range of faculty engagement with world regions and global issues by browsing the Faculty Database System or by searching for particular keywords (major world area, country, research topic, etc).
While the Duke International website strives to provide a comprehensive listing of Duke faculty with international research interests, you may also find additional information by exploring school-specific faculty listings
---
Jane M. Gaines, Professor of Literature & English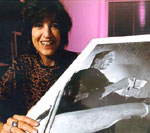 Jane resigned from her position at Duke effective 12/31/08.
Education:

| | | |
| --- | --- | --- |
| Ph.D. | Northwestern University | 1982 |
| M.A. | Northwestern University | 1971 |
| B.S. | Northwestern University | 1968 |
Specialties:

Film Theory & History
Film Studies
American Mass & Popular Culture
Cultural Studies
Cultural Studies
Research Interests: Film Theory and Feminism, Intellectual Property

Current projects: Women in the International Silent Film Industry, Documentary Theory, Film Historiography, Narrative Theory, American Literature Issue: Repetition, Reproduction

Founder of the Program in Film/Video/Digital and founder of the Duke in Los Angeles Program. Most recently, Professor Gaines won the Katherine Singer Kovacs prize for Fire and Desire: Mixed- Blood Movies in the Silent Era (University of Chicago Press, 2001). This is the second time she has won, receiving the award for Contested Culture: The Image, the Voice, and the Law (University of North Carolina Press, 1991). In November, 2001, she received the coveted Academy of Motion Picture Arts and Sciences Scholarly Award for her forthcoming book on early cinema, Fictioning Histories: Women Film Pioneers (University of Illinois Press, forthcoming). She is currently co-editing an issue of American Literature on new technologies: "The Three Rs of Critical Theory: Repetition, Reproduction, Representation." For 2003-04 Professor Gaines was on leave at the Radcliffe Institute for Advanced Study.
Areas of Interest:

Intellectual Property Law
Feminism
Film history
Film theory
New Technologies
Critical race theory
Mass culture
Keywords:

Intellectual Property Law • Feminism • Film history • Film theory • Critical race theory • Mass culture • Cinema • Film • New Technologies • Silent cinema
Current Ph.D. Students (Former Students)
Representative Publications (More Publications)

Jane M. Gaines, The Documentary Destiny of Cinema (2009) [author's comments]
Jane M. Gaines, Fictioning Histories: Women Film Pioneers (2009), University of Illinois Press
Jane M. Gaines, Contested Culture: The Image, the Voice, and the Law (forthcoming)
Jane M. Gaines, Fire and Desire: Mixed Race Movies in the Silent Era (2001), University of Chicago Press
with Pearl Bowser and Charles Musser, eds., Oscar Micheaux and His Circle: African American Filmmaking and Race Cinema of the Silent Era (2001), Indiana University Press
Jane M. Gaines and Michael Renov, eds., Collecting Visible Evidence (1999), University of Minnesota Press
Jane M. Gaines, editor, Classical Hollywood Narrative: The Paradigm Wars (1992), Duke University Press
with Jane M. Gaines and Monica Dall' Asta, Women Film Pioneers: An International Sourcebook (Europe, Canada, Asia), vol. II (forthcoming), University of Illinois Press [author's comments]
J.M. Gaines, First Fictions, Signs, vol. 30 no. 1 (Fall, 2004), pp. 1293 - 1317 [author's comments]
J.M. Gaines, Sexual Semiosis, Duke Journal of Gender Law and Policy, vol. 11 (Spring, 2004), pp. 55 - 67 [author's comments]
J.M. Gaines, Early Cinema's Heyday of Copying, Cultural Studies, vol. 20 no. 2 - 3 (Accepted, June, 2006), pp. 227 - 244
J.M. Gaines, In and Out of Race, Women and Performance, vol. 29 (Accepted, December, 2005) [author's comments]
Jane M. Gaines, Machines That Make the Body Do Things, in More Dirty Looks, edited by Pamela Church-Gibson (Fall, 2003), British Film Institute
Email Address: jmgaines@duke.edu
See additional Websites: http://www.duke.edu/web/film/pioneers/ http://www.duke.edu/web/film/Micheaux/