Duke International Faculty Database
Explore the range of faculty engagement with world regions and global issues by browsing the Faculty Database System or by searching for particular keywords (major world area, country, research topic, etc).
While the Duke International website strives to provide a comprehensive listing of Duke faculty with international research interests, you may also find additional information by exploring school-specific faculty listings
---
Anna Krylova, Assistant Professor, History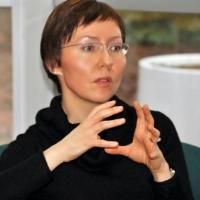 | | |
| --- | --- |
| Office Location: | 209 Classroom Building |
| Office Phone: | (919) 684-3014 |
| Email Address: | |
Teaching (Spring 2023):
HISTORY 282.01, END OF RUSSIAN SOCIALISM Synopsis

Class Bldg 103, TuTh 01:45 PM-03:00 PM
(also cross-listed as RUSSIAN 352.01)

HISTORY 472S.01, CAP SEM: RUSSIA-WORLD WAR II Synopsis

Class Bldg 106, TuTh 05:15 PM-06:30 PM
Education:

| | | |
| --- | --- | --- |
| Ph.D. | Johns Hopkins University | 2000 |
| PhD | Johns Hopkins University | 2001 |
| MA in History | The Johns Hopkins University | 1998 |
| M.A. | Johns Hopkins University | 1998 |
| MA in Political Science | The Johns Hopkins University | 1995 |
Specialties:

Cultural History
Intellectual History
Gender
European and Russia
Global Transnational History
Research Interests:

Anna Krylova works on twentieth-century Russia and the challenges posed in envisioning and building a socialist alternative in the age of industrial and post-industrial modernity and globalization. Questions of historical theory, gender theory, and practice in contemporary historical writing propel her work, with a special focus on methodological and historiographical problematics in gender history and Western scholarship on the Soviet Union. She is the author of Soviet Women in Combat: A History of Violence on the Eastern Front (Cambridge University Press, 2010) which was awarded the 2011 Herbert Baxter Adams Prize of the American Historical Association. Her current interests lie in gender theory and methodology, more specifically, in the critical interrogation of the theorization and making of the gender category since the 1970s. She is preparing a collected volume, The Practice of History in the Twenty-First Century, featuring essays accessing of what has happened to the practice of history after the theoretical and epistemological turmoil of the 1980s-1990s.

Her new book project, "Socialist Imaginaries of the Soviet Century," engages the current academic and popular conversation about social justice, economic responsibility, and individual self-realization in modern industrial societies that has been informed by an explicit and implicit comparison between capitalist and socialist modernities of the 20th century. This conversation has been dependent on historical analysis of Soviet socialism which has been worked out largely in relation to the Soviet Union's experience with Stalinism and its two preceding decades. This book project aims at disrupting the dominant vision of Soviet socialism as conceptually reducible to the first half of the 20th century. It aims to make possible a new cultural history of Soviet Russia by historicizing the ways in which normative conceptions of socialist society, sociality and self evolved in Russia and the Soviet Union from the First Russian Revolution into the postwar and post-Stalinist years.

Awards and Honors

Fellow, National Humanities Center, 2013-2014.

Member, School of Historical Studies, Institute for Advanced Study, Spring Term, 2013.

2011 Herbert Baxter Adams Prize of the American Historical Association, awarded for the best first book in European history.

2008-2009 Mellon Faculty Book Manuscript Workshop Fellowship, John Hope Franklin Humanities Institute, Duke University.

2006-2010 Hunt Family Assistant Professor of History, Duke University.

2005-2002 Post-Doctoral Fellowship, Davis Center for Russian and Eurasian Studies, Harvard University.

1998-1999 Social Science Research Council Dissertation Write-up Grant.

1999 Stulman Graduate Student, Department of History, Johns Hopkins University.

1997-1998 IREX Individual Advanced Research Opportunities Fellowship.

1997-1998 Pre-Dissertation Fellowship Award, Association for Women in Slavic Studies.
Keywords:

Europe • Russia • Eastern Europe • History • women writers • War
Current Ph.D. Students

James Nealy
Nina Arutyunyan
Rachel Bessner
Representative Publications (More Publications)

Krylova, A, Soviet Women in Combat: A History of Violence on the Eastern Front (Cambridge University Press) (2010)
A. Krylova, "Soviet Modernity: Stephen Kotkin and The Bolshevik Predicament", Contemporary European History (May, 2014)
Krylova, A, "Neither Erased nor Remembered: Soviet "Women Combatants" and Cultural Strategies of Forgetting In Soviet Russia, 1940s-1980s", in Histories of the Aftermath: The European Postwar in Comparative Perspective, edited by Biess, F; Moeller, RG (2010), pp. 83-101, Berghahn Books
Krylova, A, Identity, Agency, and the First Soviet Generation, in Generations in 20th Century Europe, edited by Lovell, S (2007), pp. 101-121, Palgrave Macmillan
Krylova, A, Beyond the Spontaneity-Consciousness Paradigm: "Class Instinct" as a Promising Category of Historical Analysis, Slavic Review, vol. 62 no. 1 (Spring, 2003), pp. 1-23, Cambridge University Press (CUP), ISSN 0037-6779 [Gateway.cgi], [doi] [abs]
Krylova, A, 'Healers of Wounded Souls': The Crisis of Private Life in Soviet Literature and Society, 1944-46, Journal of Modern History, vol. 73 no. 2 (June, 2001), pp. 307-331, University of Chicago Press, ISSN 0022-2801 [Gateway.cgi], [doi]
Krylova, A, The Tenacious Liberal Subject in Soviet Studies, Kritika: Explorations in Russian and Eurasian History, vol. 1 no. Winter 2000 (Winter, 2000), pp. 119-146 [krylova/The_Tenacious_Liberal_Subject_in_Soviet_Studies_2000.pdf]