Amy M. McCann
Associate in Research

Amy McCann is an associate in research in the Sanford School of Public Policy. In this position, she oversees the implementation of Professor Kenneth Dodge's research projects and supports Professor Dodge's participation in the Get Ready Guilford Initiative and the Society for Research in Child Development.
McCann has a decade's worth of experience covering foreign policy developments in the federal government, including at the Department of State and the Department of Defense. She has briefed cabinet-level officials on international trade-related issues and completed two short rotations at the White House in support of the President's hosting of the Asia Pacific Economic Cooperation (APEC) Summit in 2011 and G-8 Summit in 2012.
She holds a master's degree from The George Washington University in International Education Policy and received her BA in Anthropology and East Asian studies from the University of Florida.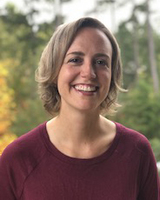 Amy M. McCann
Office: Erwin Square Mill Building, Bay C, Room 202EA
Phone: (919) 681-8504
Fax: (919) 668-6923
E-mail: amy.m.mccann@duke.edu
Mailing Address:
Duke Box 90539, Durham, NC 27708-0539