Barry S. Myers, M.D., Ph.D., M.B.A., Professor of Biomedical Engineering, with appointments in Surgery, Business, and Anatomy and M.D., Ph.D., M.B.A., Senior Associate Dean for Industrial Partnerships and Research Commercialization, Professor of Biomedical Engineering, with appointments in Surgery, Business, and Anatomy, Director of the Center for Entre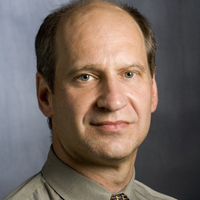 Dr. Myers has been a member of the Duke faculty since 1991. His research examines the biomechanics of head impact neck injury with the goal of injury prevention. He also maintains an active consulting practice serving as an Executive-in-Residence at Pappas Ventures and advising several start-up companies. As Senior Associate Dean he is responsible for promoting industrial interaction and technology transfer by faculty and students; overseeing the design and construction of the Duke Smarthome; and developing novel interdisciplinary educational experiences that connect business, engineering, and medicine. He directs the Center for Entrepreneurship and Research Commercialization which is dedicated to promoting entrepreneurship broadly on Duke's campus. To that end, Dr. Myers is also the Project Director for the Coulter Foundation Translational Partners Translational Research Program which provides early stage funding and management to early stage health care innovations. Dr. Myers' research interests include mechanisms of tensile neck injuries; head and neck injuries in children; the role of the cervical musculature in neck dynamics; post-mortem changes in skeletal muscle; computational modeling of neck injury; ethical issues in injury prevention; and biomechanical considerations in whiplash dynamics. The orthopaedic biomechanics research group directed by Dr. Myers conducts both experimental and computational biomechanics research to develop, and validate, models of soft and hard tissue behavior.
Dr. Myers is considered by many as the preeminent researcher in his field worldwide, having over 100 manuscripts and publications on the subject. Among Dr. Myers many honors are the Stapp Award of Recognition, and the Isbrandt Award for automotive safety from the Society of Automotive Engineers. He is the six-time winner of the Stapp Award for research in impact biomechanics, more than any other individual, and also the Bertil Aldman award for impact biomechanics research. Dr. Myers has worked with all major organizations concerned with safety in the United States including the National Highway Traffic Safety Administration, the Consumer Product Safety Commission and the National Operating Committee on Standards for Athletic Equipment. Because of his breadth of experience in injury prevention, Dr. Myers was appointed to the position of Senior Scientific Advisor to the National Center for Injury Prevention and Control for two years. He has also consulted with most major automobile manufactures and automotive racing organizations worldwide.
Dr. Myers is a Distinguished Professor at Duke University, having received the Bass Chair in recognition of his accomplishments in research and teaching. He is the faculty advisor to four student best graduate student paper competition winners at national meetings. He was responsible for the revision of the Pratt School of Engineering undergraduate curriculum to be implemented in 2004. He has served as Director of Undergraduate Studies and is currently Director of Graduate Studies for the Department of Biomedical Engineering.
Please note: Barry has left the "Evolutionary Anthropology" group at Duke University; some info here might not be up to date.
Teaching (Fall 2019):
BME 788.01, INVENTION TO APPLICATION Synopsis

Hudson 212, TuTh 01:25 PM-02:40 PM
Education:

| | | |
| --- | --- | --- |
| MBA | Duke University | 2005 |
| PhD | Duke University | 1991 |
| MD | Duke University | 1991 |
| BASc | University of Toronto | 1985 |
Specialties:

Technology Transfer
Injury and Orthopedic Biomechanics
Entrepreneurship
Research Interests:

Dr. Myers is an expert in head and neck impact injury biomechanics. He is also interested in translational research innovation overseeing programs to advance faculty research to market.
Recent Publications (More Publications) (search)