John W. Terborgh, James B Duke Professor and Director, Center for Tropical Conservation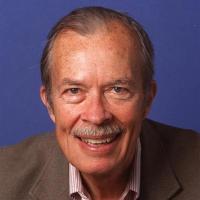 Please note: John has left the "Evolutionary Anthropology" group at Duke University; some info here might not be up to date.
Education:

| | | |
| --- | --- | --- |
| Ph.D. | Harvard University | 1963 |
| M.A. | Harvard University | 1960 |
| AM Biology | Harvard University | 1960 |
| B.A. | Harvard University | 1958 |
| AB Biology (cum laude) | Harvard College | 1958 |
Specialties:

tropical ecology
biodiversity
conservation biology
ecology
Research Interests:

Dr. Terborgh's interests lie in the fields of tropical ecology and conservation. At different times in his career he has studied birds, primates, herbs and forest trees, and he has directed student projects involving butterflies, lizards, amphibians and crocodillians. The common denominator in all this work has been the goal of solving problems of general ecological interest using a comparative approach. Some typical comparisons have involved seasonal patterns in resource utilization by forest primates, habitat use by Amazonian birds, and latitudinal variation in the structure of mature forests. Applications of ecology to conservation have increasingly become a central theme of his work. He regards as particularly important the need to understand the many consequences of habitat fragmentation, especially those related to the disruption of trophic-level processes.

Special Facilities: Dr. Terborgh and his students often conduct their research at the Cocha Cashu field station that is maintained in Peru's Manu National Park.
Representative Publications (More Publications) (search)

Terborgh, J; Lopez, L; Nuñez, P; Rao, M; Shahabuddin, G; Orihuela, G; Riveros, M; Ascanio, R; Adler, GH; Lambert, TD; Balbas, L, Ecological meltdown in predator-free forest fragments., Science (New York, N.Y.), vol. 294 no. 5548 (November, 2001), pp. 1923-1926 [doi] [abs]
J.W. Terborgh, A dying world. Reviews "One River: Explorations and Discoveries in the Amazon rain forest" by Wade Davis and "The Amazon River Forest: A Natural History of Plants, Animals, and People" by Nigel Smith, New York Review of Books, vol. 47 (2000), pp. 38-40
J.W. Terborgh, Requien para a natureza, in II Congresso Brasileiro de Unidades de Conservacão, Anais, Conferencias e Palestras, vol. 1 (2000), pp. 92-96
Terborgh, JW, In the company of humans, Natural History, vol. 109 (2000), pp. 54-62
Cintra, R; Terborgh, JW, Microspatial heterogeneity and seed and seedling survival of the palm, Astrocaryum murumuru, and the legume, Dipteryx micrantha, in an Amazonian forest, Ecotropica, vol. 6 (2000), pp. 77-88
Terborgh, J, The fate of tropical forests: A matter of stewardship, Conservation Biology : the Journal of the Society for Conservation Biology, vol. 14 no. 5 (January, 2000), pp. 1358-1361, WILEY [doi]