Alexander Fowler, Teaching Assistant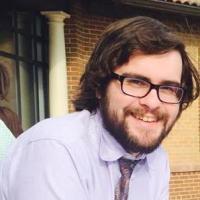 Please note: Alexander has left the "Classical Studies" group at Duke University; some info here might not be up to date.
Alexander Fowler is a third-year Ph.D. candidate in the department of Classical Studies. His research focuses on the poetry of late antiquity, with an emphasis on Nonnus of Panopolis and his subsequent imitators, such as Paul the Silentiary. He is also obsessed with epic poetry generally, and the development of the epic tradition across time and in different languages––Homer, Vergil, Dante, and Spenser are all constant companions.
He is also invested in producing translations of under-read, untranslated, or badly translated poets, and in writing original poetry.
He received his B.A. cum laude in Latin from the University of Vermont in 2013.
| | |
| --- | --- |
| Office Location: | 03 Allen Building |
| Office Phone: | +1 919 681 4292 |
| Email Address: | |