Melissa Huber, Graduate Assistant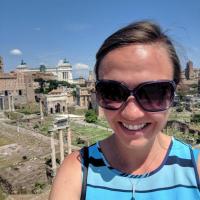 Please note: Melissa has left the "Classical Studies" group at Duke University; some info here might not be up to date.
Melissa Huber is a Ph.D. Candidate in Classical Studies with research interests in Roman history and topography, especially the social and political history of the Roman Principate. Her dissertation entitled "Monumentalizing Infrastructure: The City and People of Rome in the Time of Claudius" investigates the literary, epigraphic, numismatic, and archaeological evidence for building under Claudius. She uses her training in digital technologies to visualize the evidence in new ways.

Melissa received her AB in Classics and BS in Mathematics from the Honors College at the College of Charleston, and her MA in the City of Rome (Classics) from the University of Reading with funding from the Society for Classical Studies' Lionel Pearson Fellowship.

Melissa served as the Resident Instructor at the Intercollegiate Center for Classical Studies in Rome during the 2017-2018 academic year.

Areas of Specialization
Roman Imperial History, Roman Topography, Epigraphy, Numismatics, Imperial Biography, Historiography, Greek and Roman Art and Architecture, Ancient Science and Technology, Digital Humanities

Teaching
Intercollegiate Center for Classical Studies in Rome, Resident Instructor
Intermediate Greek: Euripides Alcestis - Fall 2017, Spring 2018
The Ancient City (team-taught) - Fall 2017, Spring 2018
Duke University, Instructor of Record
Roman History: Engineering an Empire - Spring 2017
Intermediate Latin: Pliny the Younger, Cicero, Livy, and Ovid (selections) - Fall 2016
Elementary Latin II: Wheelock's Latin - Spring 2016
Elementary Latin I: Wheelock's Latin - Fall 2015
Duke University, Teaching Assistant
Duke in Rome (5-week Summer Study Abroad Course: G. Davis) - Summer 2015
The Aegean Bronze Age (C. Antonaccio) - Fall 2014
Roman History: Imperialism and its Paybacks (Writing Course: M. T. Boatwright) - Spring 2014
Duke University Athletics Department, Tutor and Mentor
Elementary Latin, Intermediate Latin - 2013
College of Charleston
Peer Facilitator for Exploring Ancient Rome, First-Year Learning Community - 2010
Teaching Assistant for Honors Freshman Seminar - 2008-2010

Papers and Presentations
"An Emperor Makes His Mark: Claudius' New Letters in the Epigraphic Record," Society for Classical Studies Annual Meeting, San Diego, California, January 2019.
"Claudius and the Monumentalization of Water Supply Improvements in Rome," Classical Association of the Middle West and South Annual Meeting, University of Waterloo, Kitchener, Ontario, April 2017.
"Mapping Changes in Water Supply Under Claudius," Mapping the Past: GIS Approaches to Ancient History, Ancient World Mapping Center- University of North Carolina at Chapel Hill, April 2016.
"Monumentalizing the City: Republican Building Traditions in Augustan Rome," Mediterranean Studies Association 18th International Congress, Athens, Greece, May 2015.
"Etruscan Cities," Duke University, Organizer, public exhibit on Etruscan cities, April 2014.
| | |
| --- | --- |
| Office Location: | |
| Office Phone: | +1 919 681 4292 |
| Email Address: | |
Office Hours:

M 1:00 - 2:00 pm
W 2:00 - 3:00 pm
Bio