Sinja Kueppers,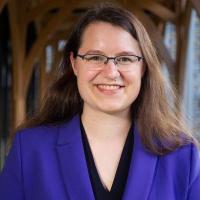 Sinja Küppers (she/her) is a sixth-year PhD student. Her research interests lie in imperial Greek literature, culture, and history. She is particularly interested in the social history of intellectual communities, marginalized voices, and bringing material culture and literary sources into conversation. Her research has been recognized by the National Academy of Education where she is currently a Spencer Dissertation Fellow – the first Classicist to have received this award. Sinja has also worked on aspects of performance and audience in Greek archaic and Roman imperial time.

Sinja received a B.A. in Languages and Cultures from Antiquity (Antike Sprachen und Kulturen) from the University of Cologne and a MSt in Greek and Latin Languages and Literature from the University of Oxford. She worked with the Homeric Scholia from 2014-2016 as a research assistant to Prof. René Nünlist at the University of Cologne. Sinja assisted in teaching Ancient Myth (2018), Ancient Athletics (2020), and Lyric & Hellenistic Poetry (2020) at Duke, Christian Traditions at Elon (2021) and has been teaching Latin 101 & 102 (2021) and Roman Education (2022) at Duke.
Over her PhD, Sinja has developed DH projects for research and instruction. In 2018, Sinja explored as an intern at the National Humanities Center a story map on the Visual Reception of the Pygmalion Myth. As a Digital Lab Fellow in the John Hope Franklin Humanities Institute (FHI), Sinja used GIS visualize Mapping the Movement in the Second Sophistic Movement in 2019. During a Summer Archival Expeditions Internship in 2020, Sinja developed a module on Female Greek Lyric Poets on Papyri to teach in Greek 328S Hellenistic & Lyric Poets.

Sinja is the co-founder of the Duke first-generation graduate student network Duke F1RSTS. More information about the organizational history can be found here.
Office Hours:

Upon request.