Thomas J Cole, Instructor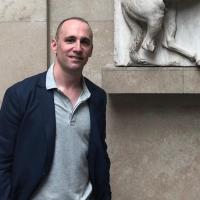 Please note: Thomas has left the "Classical Studies" group at Duke University; some info here might not be up to date.
Tom is a Ph.D. student finishing up a dissertation on political thought in Tacitus' minor works (Dialogus, Germania, and Agricola). His academic interests include Greek and Roman political thought and rhetoric, Latin love poetry, and the reception of political thought, especially in early America. Tom has attended Latin and Greek immersion programs to help him adapt active-learning methods to teaching classical languages.
Before graduate school, Tom was a lawyer specializing in business litigation. For this reason, he is interested in how an education in the classics overlaps with a legal education. He has an A.B. in Classics and Government from Franklin & Marshall College, an M.A. from Columbia University, and a J.D. from Drexel University, where he was on the board of the law review.
| | |
| --- | --- |
| Office Location: | 05 Allen Building |
| Email Address: | |
Office Hours:

Tuesday & Thursday 4:30–5:30, by appointment, and whenever you see me on campus.
Office Location: Page 209
Recent Publications

Cole, TJ, Ciceronian thought at the Constitutional Convention, Global Intellectual History (January, 2019) [doi] [abs]
Cole, T; Calihan, R; Hayden, A, Annual Review of Developments in Business and Corporate Litigation: Franchise Law (2012), American Bar Association
Cole, T; Asbury, B, Why The Bluebook Matters: The Virtues Judge Posner and Its Other Critics Overlook, Tennessee Law Review, vol. 75 (2011), pp. 95-95, The Tennessee Law Review Association, Inc.
Cole, T; Grossman, S, The Chestnut Hill Business Improvement District: Learning from Other BIDs, Drexel Law Review, vol. 3 no. 1 (2010), pp. 125-125