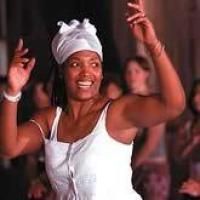 Ava L. Vinesett
Assistant Professor of the Practice of Dance
Prof. Vinesett began her instruction in the Dance Program in 1993. Prior to coming to Duke she was a founding member of the Chuck Davis African-American Dance Ensemble. She currently teaches courses in West African dance forms and dances of the black African diaspora. Her research focuses on the role of dance in Vodun, Lucumí, and Candomblé religious practices. She founded and directs the Duke African Repertory Ensemble, a performing dance group of students and members of the Durham community.
Richard is a computer programmer for the Pediatric Bone Marrow Transplant Department of Duke University Medical Center, and an accompanist for the Duke University Dance Program. Domingo and Oesa are friendly and adventurous children with a wide range of interests. Their ongoing research includes a study on how to delay bedtime (unfortunately for them, no new developments to report!), and both have been studying capoeira for more than three years. Domingo and Oesa love basketball, soccer, and football and welcome any opportunity to play.
Prof. Vinesett and family enjoy chocolate, many outside activities, reading, making music, traveling, chocolate, and foods made from Theobroma cacao of the family Sterculiaceae.
106 Bivins Bldg
919 660 3304
ava@duke.edu
Residence: 136 Blackwell (613-3407)