Anna Storti, Assistant Professor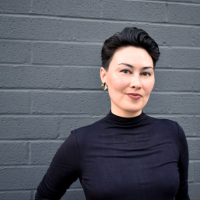 Teaching (Spring 2022):
Gsf 364s.01, Race, gender, and sexuality Synopsis

Smith wrhs 177, TuTh 03:30 PM-04:45 PM
(also cross-listed as AAAS 242S.01, SXL 264S.01)
Education:
Ph.D. University of Maryland, College Park 2020
Recent Publications (More Publications)
Storti, A, "Queering the Global Filipina Body: Contested Nationalisms in the Filipina/o Diaspora". Feminist Formations 33:2 (2021): 343-343.
Storti, AMM. "Half and both: on color and subject/object tactility." Women & Performance: a Journal of Feminist Theory 30:1 (January, 2020): 104-112. [doi] [abs]
Moncada Storti, AM. "Scenes of Hope, Acts of Despair: Deidealizing Hybridity in Saya Woolfalk's World of the Empathics." Frontiers: a Journal of Women Studies 41:3 (2020): 147-177. [doi]
Storti, A, "Sensual Excess: Queer Femininity and Brown Jouissance". 7:3 (2020): 215-218.
Storti, A, "After the Party: A Manifesto for Queer of Color Life". 29:1 (2019): 95-98.