Tomiko Yoda, Associate Professor, Asian and Middle Eastern Studies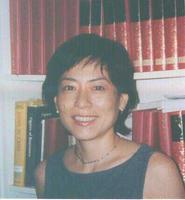 | | |
| --- | --- |
| Office Location: | 215 Trent Hall |
| Office Phone: | 919-684-4310 |
| Email Address: | |
Education:
Ph.D. in Japanese Stanford University 1996
M.A. in Japanese Stanford University 1991
Candidate for Ph.D. in Religion Harvard University 1987
M.A. in Oriental Philosophy Nagoya University (Nagoya, Japan) 1987
B.A. in Religion Wesleyan University (Middletown, CT) 1983
Specialties:

Japanese
Cultural Studies
Research Interests: Literary Theory, Gender Studies, and Japanese Intellectual History

She specializes in Japanese literature, intellectual history, gender, and feminist studies.
Recent Publications
(More Publications)
T. Yoda (co-edit). Japan After Japan: Social and Cultural Life From the Recessionary 90s to the Present. Duke University Press, Summer, 2006.
T. Yoda. "First-Person Voice and Citizen-Subject: The Modernity of Ogai's Maihime." Journal of Asian Studies 65:25 (May, May, 2006).
T. Yoda. "Heian bungaku no joseika to juhasseiki kagaku no kindaisei [Feminization of Heian Literature and the Modernity of Eighteenth-Century Poetics]." Genji kenkyû :10 (2005).
T. Yoda. Gender And National Literature: Heian Texts and Constructions of Japanese Modernity. Duke University Press, May, 2004.
T. Yoda. "Kogyaru and the Political Economy of Feminized Consuer Culture." Zappa: the Social Space and Movements of Contemporary Japan (Accepted, forthcoming). [abs]