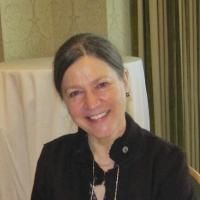 Professor of Economics
Teaching (Spring 2023):
Econ 881.23, Topics in applied microecon Synopsis

Social sciences 113, MW 01:45 PM-03:00 PM

Econ 881.24, Topics in applied microecon Synopsis

Social sciences 113, MW 01:45 PM-03:00 PM

Econ 951s.01, Applied micro research Synopsis

Social sciences 111, Tu 12:00 PM-01:15 PM
Education:
Ph.D. Northwestern University 1969
B.A. Pennsylvania State University 1965
no degree Douglass College 1962
Specialties:

Labor Economics / Economics of the Household
Microeconomics
Research Interests: Labor, Demand Systems, and Financial Economics

Professor Marjorie McElroy joined the Duke Economics faculty in 1970 after receiving her Ph.D. from Northwestern University, and spending a year at Bell Laboratories. She has been a visiting professor at the Universities of Chicago, Illinois, and Virginia. The National Science Foundation has supported her research in the areas of financial economics, demand systems and production, and the economics of the family. She has served on the National Science Foundation Panel in Economics, The American Economic Association's Committee on the Status of Women in the Economics Profession; she currently serves on the Board of Directors of the National Bureau of Economic Research. She is immediate past Vice President of the American Economic Association and, by coincidence, the current President of the Southern Economic Association. In addition to directing both the Labor Workshop and the Labor Lunch, she teaches a graduate level course in labor economics. Since June 1995, she has served as the Chair of the Department of Economics and will continue in that role through August 2002. Her current research concentrates on labor economics and the economics of the family, with special attention to the interplay of bargained family decisions and marriage markets. Related research on China attempts to disentangle the effects of government policies from those of economic development.
Recent Publications
(More Publications)
McElroy, MB. "Committee on the status of women in the economics profession (CSWEP)." American Economic Review 106:5 (May, 2016): 750-773. [doi]
Arcidiacono, P; Beauchamp, A; McElroy, M. "Terms of Endearment: An Equilibrium Model of Sex and Matching." Quantitative Economics 7:1 (March, 2016): 117-156. [doi]
McElroy, MB; Wang, W. "Do Concealed Gun Permits Deter Crime? New Results from a Dynamic Model." (July, 2014).
McElroy, MB. "Committee on the status of women in the economics profession." American Economic Review 104:5 (January, 2014): 664-681. [doi]