Research Interests for David L. Paletz
Research Interests:
Presidency, Media, and 20th Century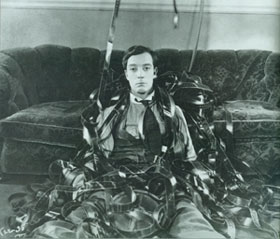 Professor of Political Science and editor of Political Communication. His degrees are all from UCLA. Dr. Paletz's specializes in political communication both in the US and internationally. His research focuses on the relationship between the media (defined broadly to include both news and entertainment) and American government and politics (defined broadly to include the public, institutions, and processes). He teaches courses on "Politics and the Media," "Film and Politics," "International Communication," "American Government," and "Politics and the Libido." He is the author of The Media in American Politics: Contents and Consequences, 2nd ed. (Addison-Wesley Longman, 2002), co-author of Media Power Politics (Free Press, 1981 and 1983), and of Politics in Public Service Advertising on Television (Praeger, 1977); 2003), editor of and contributor Political Communication in Action (Hampton Press, 1996); and of Political Communication Research, Vol. II (Ablex 1996), and Vol. I (Ablex, 1987); co-editor and contributor to Business as Usual (Hampton Press, 2003), Glasnost and After: Media and Change in Eastern/Central Europe (Hampton Press, 1995), Taken By Storm: Media, Public Opinion, and U.S. Foreign Policy in the Gulf War (University of Chicago Press, 1994), and of Terrorism and the Media (Sage, 1992); and author of some sixty other publications. He has been Chair of the Political Communication Research Section of the International Association for Media and Communication Research, Chair of the Political Communication Section of the American Political Science Association, and a Founding Member of the International Journal of Political Socialization and Political Psychology. Among his research and teaching awards are a Congressional Fellowship from the American Political Science Association, Humanities Fellowship from the Rockefeller Foundation, two Fulbright Scholarships, and the Alumni Distinguished Undergraduate Teaching Award from Duke University. He chairs the Selection Committee of the Full Frame Documentary Film Festival.
Keywords:

Antineoplastic Agents, Carcinoma, Squamous Cell, Combined Modality Therapy, Dose Fractionation, Head and Neck Neoplasms, Humans, Neck Dissection, Survival Analysis
Recent Publications

Berry, SM; Petzold, EA; Dull, P; Thielman, NM; Cunningham, CK; McClain, MT; Hoover, DL; Russell, J; Griffiss, JM; Woods, CW, Response., Clinical Trials, vol. 13 no. 5 (1988), pp. 568-569 [doi]
Paletz, DL, Sherman's March: Romantic Love in Documentary Films, in Understanding Love: Philosophy, Film, and Fiction, edited by Wolf, S; Grau, C (2014), pp. 231-250, Oxford University Press, New York
Sutterby, JA, Introduction, in Advances in Early Education and Day Care, edited by Paletz, DL; Jakubowicz, K; Novosel, P, vol. 16 (1995), pp. ix-xi, Emerald Group Publishing, ISBN 9781781900741 [doi]
Paletz, DL; Owen, D; Cook, T, American Government and Politics in the Information Age (2012), FlatWorldKnowledge (Published both in print and online editions.)