Mark Olson, Associate Professor of the Practice and Information Science + Studies and Associate of the Duke Initiative for Science & Society and Core Faculty in Innovation & Entrepreneurship of Duke Innovation & Entrepreneurship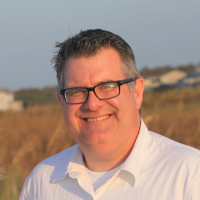 Mark Olson is Associate Professor of the Practice of Visual & Media Studies at Duke University. He teaches courses on media (new & old - theory, practice, & history) and medicine & visual culture. As a extension of his past work with the MacArthur Foundation's Digital Media & Learning Initiative, he collaborates on the development of a new interdisciplinary project that connects the study of the material culture of art history, architecture and archaeology with new media modes of representation and visualization. Olson is the former Director of New Media & Information Technologies for HASTAC (Humanities, Arts, Sciences & Technology Advanced Collaboratory) and the John Hope Franklin Center for Interdisciplinary & International Studies.

Preferred pronouns: he, him, his
| | |
| --- | --- |
| Office Location: | 114 South Buchanan Blvd, A262a Smith Warehouse, Bay 10, Durham, NC 27708 |
| Office Phone: | (919) 613-6726 |
| Email Address: | |
| Web Page: | http://mjvo.com |
Teaching (Fall 2022):
Office Hours:

Teaching at Venice International University in Spring 2022.

Regular office hours resume in Fall 2022.
Education:

| | | |
| --- | --- | --- |
| Ph.D. | University of North Carolina - Chapel Hill | 2009 |
| MA | University of North Carolina at Chapel Hill | 1998 |
| BA | Drake University | 1993 |
Specialties:

Visual Studies/Visual Culture
Franklin Center
Medicine and Visual Culture
Media Studies
Media History
Performance Studies
Theory & Criticism
Digital Media
New Media
New Technologies for Visualizing Historical Materials
Research Interests:

Mark Olson is Cordelia and William Laverack Family Assistant Professor of Art, Art History & Visual Studies at Duke University. He teaches courses on media (new & old - theory, practice, & history) and medicine & visual culture. As a extension of his past work with the MacArthur Foundation's Digital Media & Learning Initiative, he collaborates on the development of a new interdisciplinary project that connects the study of the material culture of art history, architecture and archaeology with new media modes of representation and visualization. Olson is the former Director of New Media & Information Technologies for HASTAC (Humanties, Arts, Sciences & Technology Advanced Collaboratory) and the John Hope Franklin Center for Interdisciplinary & International Studies.
Keywords:

Muser Mentor
Current Ph.D. Students
Postdocs Mentored

Kristin H. Lanzoni (August 01, 2013 - present)
Rebecca Bennett (August, 2012 - October, 2013)
Recent Publications (More Publications)

Schwartz, FR; Churchill, S; Ingold, R; Goknur, S; Gupta, D; Gladman, J; Olson, M; Tailor, TD, The art of imaging methods—using cutting edge radiological technology to uncover the secrets of ancient anatomical figurines, Archaeological and Anthropological Sciences, vol. 13 no. 5 (May, 2021) [doi] [abs]
Jaskot, P; Jacobs, H; Szabo, V; Olson, M; Triplett, E, Shaping the Discipline of Digital Art History: A recap of an advanced summer institute on 3-D and (geo)spatial networks (December, 2018), The Iris: Behind the Scenes at the Getty
Olson, M; Giordano, A, Visualizing Venice: Developing a methodology for historical visualization, in Visualizing Venice: Mapping and Modeling Time and Change in a City, edited by Huffman, K; Giordano, A; Bruzelius, C (2017), pp. 20-25, Routledge, ISBN 1138285994 [doi]
Olson, M, Interactive Exhibitions, in Visualizing Venice: Mapping and Modeling Time and Change in a City, edited by Huffman, KL; Giordano, A; Bruzelius, C (2017), pp. 92-99, Routledge, ISBN 1138285994 [doi] [abs]
Lanzoni, K; Olson, M; Szabo, V, Wired! and Visualizing Venice: Scaling up Digital Art History, Artl@S Bulletin, vol. 4 no. 1 (2015), pp. 20-39 [available here] [abs]