Erin Zoutendam,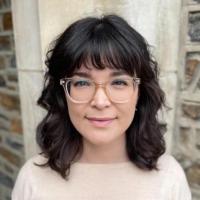 Please note: Erin has left the "Religious Studies" group at Duke University; some info here might not be up to date.
Erin Zoutendam is a PhD candidate in the Graduate Program in Religion. Her major areas of interest are church history and historical theology, with a particular focus on medieval and early modern mysticism, the history of scriptural interpretation, and medieval and early modern women. Her dissertation examines the intersection of biblical interpretation and mystical theology in the later Middle Ages and the Reformation.

She holds a ThM from Western Theological Seminary, an MTS from Calvin Theological Seminary, and a BA in French and English from Hillsdale College. She is a James B. Duke Fellow and a Louisville Doctoral Fellow, and she is also the winner of the 2017 Goodwin Prize for Excellence in Theological Writing.
| | |
| --- | --- |
| Office Location: | |
| Email Address: | |
Recent Publications