Jeffrey Nicolaisen, Visiting Lecturer at Duke Kunshan University of DKU Faculty and Religious Studies and Visiting Lecturer in Global Studies of Trinity College of Arts and Sciences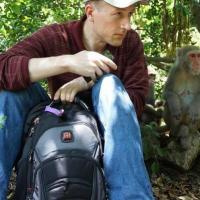 Nicolaisen investigates multi-species relationships among Han and indigenous people, dogs, and monkeys in Taiwan through participant-observation, interviews, field observation, and textual analysis. His research contributes to new ways of thinking about and resolving interspecies conflicts with the aim of benefitting all three species. By examining an animal advocacy group in Taiwan called Life Conservationist Association and its interaction with dogs, monkeys (Taiwanese macaque, Macaca cyclopis), and indigenous people, Nicolaisen's research challenges boundaries between what is wild and what is civilized by bringing non-human species into conversation with contemporary social issues in Taiwan. He considers how these ways of apprehending the world (ontologies) may provide new insights to global ecological challenges, and how they may support or challenge recent theories, such as Actor Network Theory. To accomplish this, he uses transdisciplinary methods to integrate ethnographic, biological, and textual methods. While he explores alternative ecologies on the ground in Taiwan, he also analyzes the global influences and connections with countries such China, Japan, and the United States.
Nicolaisen and his collaborator's are developing a network of scholars, including primatologists, anthropologists, philosophers, ethnobiologists, and others, to collaborate on multi-species research on Asian thought and ecology. Through collaboration with the Duke Global Asia Initiative, Nicolaisen's work also provides a foundation for future transnational collaboration on urgent eco-social issues in Asia to better understand alternative approaches to global ecological challenges.
Jeffrey Nicolaisen is a visiting instructor in the Duke-DKU Global Fellows Program at Duke Kunshan University. He has a Ph.D. and M.A. in Religion from Duke University, an M.A. in Civil Engineering from Nagoya University, and an M.A. in Asian Studies from the University of Illinois at Urbana-Champaign. He worked as an environmental consultant with Environmental Resources Management before beginning a second career in the study of Asian religions and ecology.
Education:
Recent Publications

Shih, C-H, An Exposition of the Buddhist Philosophy of Protecting Life and Animal Protection, in Chinese Environmental Humanities, edited by Chang, C-J (2019), pp. 309-330, Springer International Publishing, ISBN 9783030186333 (translated by Nicolaisen, J.) [doi]
Nicolaisen, J, The Intersection of Sentient Beings and Species, Traditional and Modern, in the Practices and Doctrine of Dharma Drum Mountain, in Chinese Environmental Humanities (2019), pp. 289-308, Springer International Publishing, ISBN 9783030186333 [doi]
J. E. Nicolaisen, ; J. E. Gilley, ; B. Eghball, ; D. B. Marx,, Crop Residue Effects on Runoff Nutrient Concentrations Following Manure Application, Transactions of the Asabe, vol. 50 no. 3 (2007), pp. 939-944, American Society of Agricultural and Biological Engineers (ASABE) [doi]