Joseph R. Winters, Assistant Professor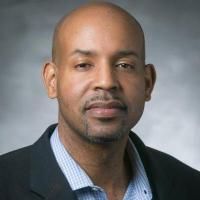 | | |
| --- | --- |
| Office Location: | 118 Gray Building, Durham, NC 27708 |
| Office Phone: | (919) 423-1911 |
| Email Address: | |
| Web Page: | |
Teaching (Summer1 2023):
Religion 248.01, Hip hop and religion Synopsis

Online on, MTuTh 12:30 PM-02:35 PM
(also cross-listed as AAAS 248.01, ENGLISH 299.01, GSF 299.01)
Teaching (Fall 2023):
Religion 201.01, Race, film, and religion Synopsis

West duke 108b, MW 11:45 AM-01:00 PM
(also cross-listed as AAAS 201.01, GSF 201.01)

Religion 765s.01, Existentialism, nihilism, reli Synopsis

West duke 204, W 03:20 PM-05:50 PM
(also cross-listed as AAAS 765S.01, ENGLISH 765S.01, GSF 765S.01)
Education:

| | | |
| --- | --- | --- |
| Ph.D. | Princeton University | 2009 |
| B.A. | Harvard University | 1999 |
Specialties:

Religion
Culture
American Religious History
Research Interests: Religion and Critical Theory; African American Religious Thought; African American Literature; Continental Philosophy

Current projects: I am currently starting a project on hip hop, religion, and literature.

My research interests lie at the intersection of modern religious thought, African American religious thought, and critical theory. My work contributes to recent endeavors to re-imagine and expand our understanding of black religion, black piety, and black cultural practices. Using a dialogical approach, I examine black religious and literary thought in conversation with critical theory and continental philosophy. My research also draws from theories and approaches to religious studies. My first book, Hope Draped in Black: Race, Melancholy, and the Agony of Progress (Duke UP, 2016) challenges racial progress narratives by examining the relationship between remembrance, loss, and hope in black literature and aesthetic practices.
Recent Publications

Zamalin, A; Winters, JR; Olson, A; Njoya, W. "Toni Morrison and political theory." Contemporary Political Theory vol. 19 no. 4 (December, 2020): 704-729. [doi]