Filippo Screpanti,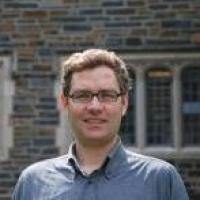 Please note: Filippo has left the "Romance Studies" group at Duke University; some info here might not be up to date.
Filippo Screpanti is a Ph.D. candidate in Romance Studies at Duke University pursuing a dual-track program in French and Italian Literature with a focus on the 16th and 17th centuries. His dissertation "Sixteenth and Seventeenth-century Mediterranean Piracy, Privateering, Captivity, and Apostasy in French Literature and Culture – Fact and Fiction" investigates the multifaceted relationship between the history of confrontation, exchange and integration in the early modern Western Mediterranean and its cultural representation in the French and Italian fictional and non -fictional production.
Before coming to Duke University, he studied at the University of Colorado - Boulder (M.A.) and the University of Rome (B.A.). His research interests include Early Modern Mediterranean Studies, Orientalism, Travel Literature, and Cultural Studies.
Keywords:

Baroque literature • Christian literature, Italian • Early modern, 1500-1700 • Epic poetry, Italian • French • French Literature • Historical fiction, Italian • Italian literature • Lingua Franca (Mediterranean region) • Literature • Mediterranean Region • Picaresque literature, Italian • Renaissance • Travel writing • Western Mediterranean
Recent Publications

Screpanti, F, Jean de Thevenot's Relation d'un voyage fait au Levant (1664), edited by Thomas, D; Roggema, B, Christian Muslim Relations. a Bibliographical History, vol. 13 (August, 2019), Brill, ISBN 9789004402829
Filippo, S, Albert Jouvin de Rochefort's Le voyageur d'Europe, où est le voyage de Turquie qui comprend la Terre Sainte et l'Egypte (1672), edited by Thomas, D; Roggema, B, Christian Muslim Relations. a Bibliographical History, vol. 13 (August, 2019), Brill