Laura Banella, Teaching Assistant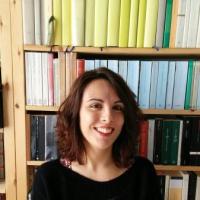 Please note: Laura has left the "Romance Studies" group at Duke University; some info here might not be up to date.
After graduating from University of Pisa and Scuola Normale Superiore, I earned a doctorate in Italian literature from the University of Padova. My main research interests lie in medieval Italian literature and material philology. Particularly, I am exploring the reception of Boccaccio's edition of Dante's Vita nuova, and the canonization of Dante through the study of lyric anthologies.
Recent Publications

Banella, L, Boccaccio as Anthologist and the Dawn of Editorial Auctoritas, Mediaevalia, vol. 39 (2018)
Banella, L, Dante, la nascita dell'Italia e della letteratura italiana: il racconto delle origini nelle storie della letteratura risorgimentali, Giornale Storico della Letteratura Italiana (2017), Casa Editrice Loescher
Banella, L, «Se Laurettam quandam ardentissime demonstrarit amasse…»: l'interpretazione della poesia nell'antologia Chigiana del Boccaccio, in Antologie d'autore. La tradizione dei florilegi nella letteratura italiana, Atti del Convegno di Roma (Centro Pio Rajna, 27-29/10/2014) (2016), pp. 441-452, Salerno
Banella, L, The "Dante Canon": Collecting Dante's Lyric Poetry in the Fourteenth Century, vol. 134 no. 1 (2016), pp. 169-194 [doi]
Banella, L, Un esempio di canone dantesco nella tradizione quattrocentesca delle Rime, in Dante fra il settecentocinquantenario della nascita (2015) e il settecentenario della morte (2021), Atti del Convegno internazionale di Roma (Centro Pio Rajna, 28/9-1/10/2015) (2016), pp. 725-736, Salerno