Lamonte Aidoo, Associate Professor and Kiser Family Associate Professer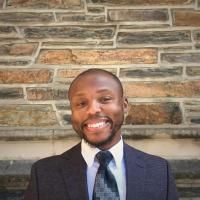 Lamonte Aidoo is the Kiser Family Associate Professor of Romance Studies at Duke University and Co-Director and Founder of the "From Slavery to Freedom: Representations of Race and Freedom in the African Diaspora" Lab at the John Hope Franklin Humanities Institute. Dr. Aidoo earned his PhD, Phi Beta Kappa from Brown University in Portuguese and Brazilian Studies. Aidoo is a teacher, scholar and mentor committed to anti-racism, social justice, and equality. His work examines the legacies of slavery, racial and sexual violence and their impact on nation formation in Brazil and throughout Latin America and the African Diaspora. Through an interdisciplinary, intersectional approach to Africana, Gender and Sexuality, and Latin American Studies, Dr. Aidoo explores how the histories and legacies of sexual and racial violence have been obscured, sanitized and erased from the national consciousness and its impact on black communities and histories throughout the Americas.
He is the author of the award-winning book, Slavery Unseen: Sex, Power and Violence in Brazilian History published by Duke University Press in the Latin America Otherwise series and was awarded the Nicolás Cristóbal Guillén book award by the Caribbean Philosophical Association. Examining concealed historical instances of same-sex sexual violence, the book shows how the myth of racial democracy elides the history of sexual violence, patriarchal terror, and exploitation of slaves. Dr. Aidoo is also the editor of five books including: Lima Barreto: New Critical Perspectives, Emerging Dialogues on Machado de Assis, Lusophone African Short Stories and Poetry After Independence: Decolonial Destinies, Migrant Frontiers: Race and Mobility in the Iberian and Lusophone World, and Imperial Crossings: Writings on Race, Identity, and Power in the Lusophone World. Dr. Aidoo's newest forthcoming monograph examines Black men, racial violence, homosexuality, and policing in post-emancipation Brazil.
In Spring 2021, Aidoo was named the Kiser Family Associate Professor of Romance Studies and appointed as a Bass Fellow in recognition of his excellence in scholarship and commitment to undergraduate education. Dr. Aidoo's research has likewise been supported by fellowships and awards from a number of institutions, including the Fulbright Foundation and Woodrow Wilson Foundation.
| | |
| --- | --- |
| Office Location: | 111 Language Center, Box 90257, Durham, NC 27708 |
| Office Phone: | (919) 660-3152 |
| Email Address: | |
Teaching (Spring 2023):
HISTORY 89S.01, FIRST-YEAR SEMINAR (TOP) Synopsis

Smith Wrhs C106, TuTh 12:00 PM-01:15 PM
(also cross-listed as LATAMER 89S.01, ROMST 89S.01)

ROMST 338S.01, BRAZIL AND LUSOPHONE AFRICA Synopsis

Smith Wrhs C106, TuTh 01:45 PM-03:00 PM
(also cross-listed as AAAS 359S.01, LATAMER 335S.01)
Education:

| | | |
| --- | --- | --- |
| Ph.D. | Brown University | 2012 |
| MA | Brown University | |
| Diplôme D'Études Françaises | L'Université Stendhal –Grenoble 3 | |
| BA, French and Francophone Studies, summa cum laude | Lincoln University | |
| BA, Spanish and Latin American Studies, summa cum laude | Lincoln University | |
Specialties:

Portuguese
Spanish and Latin-American Studies
French Studies
Critical Theory, Philosophy
Psychoanalysis, Psychology
Decolonial and Post-colonial Studies
Caribbean Studies
European Studies
Film, Media and Visual Studies
Recent Publications (More Publications)

Aidoo, L, Genealogies of horror: three stories of slave-women, motherhood, and murder in the Americas, African and Black Diaspora: an International Journal, vol. 13 no. 1 (January, 2020), pp. 40-53 [doi] [abs]
Aidoo, L, Slavery Unseen: Sex, Power, and Violence in Brazilian History (Latin America Otherwise) (April, 2018), Duke University Press Book, ISBN 0822371162
Aidoo, L; Silva, DF, Emerging Dialogues on Machado de Assis (June, 2016), pp. 264 pages, SPRINGER, ISBN 1137541741 [abs]
Aidoo, L; Silva, DF, Introduction, in Emerging Dialogues on Machado de Assis (2016), pp. 1-10, Palgrave Macmillan US, ISBN 9781137543431 [doi]
Aidoo, L, Luiz Gonzaga Pinto da Gama, in Dictionary of Caribbean and Afro-Latin American Biography Authors, edited by Henry Louis Gates, J; Knight, FK (2014), New York: Oxford University Press