Edward Gomes, Senior Assoc Dean, TTS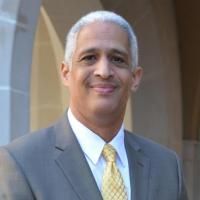 Edward D Gomes Jr. is currently the senior associate dean for Trinity College of Arts & Sciences Office of Technology Services (TTS). Gomes oversees information technology planning, services, resource allocation and integration for 80+ departments, programs and institutes. He also chairs or serves on numerous campus and regional planning committees related to academic technology, technology support and space planning.
Prior to his current role, Gomes served as Head of Information for the Duke University Libraries. In addition, since his arrival to Duke in 1986, he has held technology and research positions in both Duke University and Duke University Health System departments. One of his proudest achievements was the collaborative implementation of one of the first Duke University surplus computer donation programs supporting Durham public schools and non-profits, which developed into a university wide program that still exists today. He also jointly developed laser surgical methods that resulted in a US patent (US 5267856 A), awarded in 1993.
Gomes chaired Duke's eLearning Roadmap Committee which let to the transition from Blackboard to Sakai and currently serves on Duke's Sakai governance steering committee. He served as project manager for the Link Teaching and Learning Center, which opened in lower level one of Perkins Library in 2008. He also currently serves as a member of the Project Kaleidoscope (PKAL) Learning Spaces Collaboratory Advisory Committee.
Office Location: 905 W Main Street, Suite 25B, Box 41, Durham, NC 27701
Office Phone: +1 919 684 4411
Email Address: edward.gomes@duke.edu
Web Page: https://admin.trinity.duke.edu/dean/leadership-team/technology-services
Education:

BS, Bridgewater State College, 1985
Areas Supported:

Project Management
Classrooms & Learning Spaces
Web Services
Operations
Global Health
Administration & Purchasing
Recent Publications (More Publications)

Zhang, J; Gomes, ED; Morris, KG; Moredock, J; Cobb, FR, Preferential nitroglycerin tolerance in the resistance coronary vasculature, Circulation, vol. 94 no. 8 (October, 1996), pp. 96-96, AMER HEART ASSOC [Gateway.cgi] .
ZHANG, J; GOMES, E; SOMERS, M; COBB, FR, VASOMOTOR MECHANISMS OF ADENOSINE ON CORONARY CONDUCTANCE AND BLOOD-FLOW REGULATING VASCULATURE, Faseb Journal, vol. 9 no. 4 (March, 1995), pp. A909-A909, FEDERATION AMER SOC EXP BIOL [Gateway.cgi] .
COBB, FR; BOWEN, P; GOMES, E; ZHANG, J, EFFECTS OF POTASSIUM CHANNEL STIMULATION AND INHIBITION ON CORONARY REACTIVE HYPEREMIC RESPONSES TO SHORT AND LONG INTERVALS OF MYOCARDIAL-ISCHEMIA, Faseb Journal, vol. 9 no. 4 (March, 1995), pp. A911-A911, FEDERATION AMER SOC EXP BIOL [Gateway.cgi] .
Hoke, JA; Burkes, EJ; Gomes, ED; Hooper, BA; Wolbarsht, ML, The effect of free electron laser exposure on tooth structure, Lasers in the Life Sciences, vol. 6 no. 4 (January, 1995), pp. 251-257 .
ZHANG, J; GOMES, E; BOWEN, P; COBB, FR, K+ CHANNEL STIMULATION POTENTIATES THE REACTIVE HYPEREMIA RESPONSE TO LONG BUT NOT SHORT PERIODS OF MYOCARDIAL-ISCHEMIA IN AWAKE ANIMALS, Faseb Journal, vol. 8 no. 4 (March, 1994), pp. A292-A292, FEDERATION AMER SOC EXP BIOL [Gateway.cgi] .