Richard V. Riddell, Mary D.B.T. and James H. Semans Professor of the Practice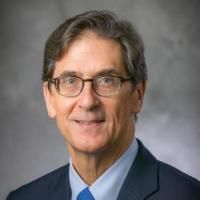 | | |
| --- | --- |
| Office Location: | Page, Room 109, Durham, NC 27708 |
| Office Phone: | (919) 660-3343 |
| Email Address: | |
| Web Page: | |
Research Interests: Theater History, Lighting Design

Richard Riddell has had a career as a scholar, professional lighting designer, and academic administrator. A graduate of Knox College and Stanford University, he has published articles on education and the arts, design, and European theater in The New York Times, The Chronicle of Higher Education, American Theater, The Drama Review, and other publications. He has received the Tony, Drama Desk, and Maharam Awards for excellence in lighting design and has designed productions on Broadway and at resident theater and opera companies in the United States and Great Britain, including the American Repertory Theatre, the English National Opera, the New York City Opera, the La Jolla Playhouse, the Guthrie, and the Royal Shakespeare Company. He designed the lighting for the premieres of three operas by Philip Glass: Satyagraha, Akhnaten (also collaborating on the libretto), and The Fall of the House of Usher. Prior to coming to Duke, he was chairman of the Department of Theater at the University of California, San Diego, and Director of the Institute for Advanced Theater Training at Harvard University. He led the Duke University Department of Theater Studies (formerly Program in Drama) from 1992 to 2003.
Typical Courses Taught:
Theater st 129s, Ethical stages

Theater st 131, Contemporary theater in production (with manny azenburg) Synopsis

Theater st 169s, Special topics: lighting design for the theater Synopsis
Education:

Ph.D. Stanford University 1978
B.A. Knox College 1972

Specialties:

Theater History
Lighting Design
Awards, Honors, and Distinctions


Antoinette Perry (TONY) Award, New York City, 1985
Drama Desk Award, New York City, 1985
Joseph Maharam Award in Design, New York City, 1985
Golden Trigue (First Place): Best National Exhibit, Prague Quadrennial International Exhibition of Design, 1987
Knox College Alumni Achievement Award, June 1986
Invited Entry: Fourth Biennial Scenography Exposition, United States Institute of Theatre Technology, 1986
Dramalogue Award: Lighting Design, Los Angeles, 1985
German Academic Exchange Service Grant, 1982
National Endowment for the Humanities Grant, 1979
Representative Publications (More Publications)

Riddell, RV, Ibsen's An Enemy of the People at the 35th Berlin Theatertreffen, Theaterforum (1999).
Riddell, RV, Artists and Audiences, Duke Magazine, Arts and Ideas (Fall, 1996).
Napoleon, D, Shedding Light on the Play, Theater Week (February, 1996) (Interview.).
Riddell, RV, The Training Explosion, American Theatre (October, 1990).
Riddell, RV, In Praise of Groups, American Theatre (April, 1990).
Riddell, RV, The Academy Flunks Out, American Theatre (June, 1989) (Reprint of previous article in The Chronicle of Higher Education, February 1989.).
Riddell, RV, On German Stages, a Society Explores Itself, The New York Times (March, 1989).
Riddell, RV, The University Once Thought It Could Develop Artists: Now We Know It Can't, The Chronicle of Higher Education (1989) (Reprinted in American Theatre under title, "The Academy Flunks Out", June 1989.).
Riddell, RV, Tribute to Alan Schneider, Society of Stage Directors and Choreographers Bulletin (1985).
Riddell, RV, Achim Freyer, Karl-Ernst Herrman, Wilfried Minks, in Contemporary Designers (1984), St. James Press.
Riddell, RV, The German Raum, The Drama Review (March, 1980).
Riddell, RV, The Schaubuehne. Spatial Experimentation in Berlin, Theatre Crafts (1979).
Riddell, RV, Wilfried Minks, Theatre Crafts (1978).
Selected Production Credits

Lighting Design Credits

A Philadelphia Story, Missouri Repertory Theater, 2001
with Richard V. Riddell
Eleanor: An American Love Story, Ford's Theatre, Washington, D.C. and Theater Previews at Duke, 1999
with Richard V. Riddell
Kudzu, Ford's Theatre, Washington, D.C. and Theater Previews at Duke, 1998
with Richard V. Riddell
Otello, English National Opera, London, 1998
with Richard V. Riddell
Private Lives, The Cleveland Playhouse, 1995
with Richard V. Riddell
Queen of Spades, English National Opera, London, 1993
with Richard V. Riddell
Steel, American Repertory Theatre, 1991
with Richard V. Riddell
The Return of Ulysses, English National Opera, London, 1989
with Richard V. Riddell
The Flying Dutchman, Santa Fe Opera, 1988
with Richard V. Riddell
A Walk in the Woods, La Jolla Playhouse; Booth Theatre, Broadway (1988); Pushkin Theatre, Moscow (1989), 1987
with Richard V. Riddell
The Day Room, American Repertory Theatre (Premiere), 1986
with Richard V. Riddell
Akhnaten, Houston Grand Opera; New York City Opera; English National Opera, London (1985), 1984
with Richard V. Riddell
Big River, La Jolla Playhouse; Eugene O'Neill Theatre, Broadway (1985), 1984
with Richard V. Riddell
Pieces of Eight, The Acting Company National Tour (inc. The Public Theater), 1984
with Richard V. Riddell
The Tempest, Royal Shakespeare Company, Stratford-Upon-Avon; Royal Shakespeare Company, London (1983), 1982
with Richard V. Riddell
The Yellow Sound, Marymount Manhattan Theatre, New York (World Premiere); Alte Oper Frankfurt, Germany (1982), 1982
with Richard V. Riddell
Katya Kabanova, Houston Grand Opera, 1981
with Richard V. Riddell
Our Town, Guthrie Theatre, 1981
with Richard V. Riddell
Satyagraha, Netherlands Opera, Rotterdam, Amsterdam (Premiere); Brooklyn Academy of Music (1981); Chicago Lyric Opera (1987); Seattle Opera (1988); San Francisco Opera (1989), 1980
with Richard V. Riddell

Scene Design Credits

Akhnaten, Houston Grand Opera and New York City Opera, 1984
with Richard V. Riddell
The Yellow Sound, Marymount Manhattan Theatre, New York City (World Premiere); Alte Oper Frankfurt, Germany (1982), 1982
with Richard V. Riddell
Krapp's Last Tape, Akademie der Kuenste, West Berlin, 1977
with Richard V. Riddell

Other Production Credits

Akhnaten, Houston Grand Opera; New York City Opera; English National Opera, London (1985); Wuerttembergische Staatstheater Stuttgart (1985), 1984
with Richard V. Riddell