Charles G Catotti, Director, Event Management and Instructor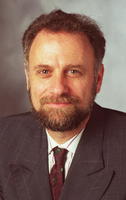 Typical Courses Taught:
THEATRST 263S, LIGHTING DESIGN
Education:
Specialties:

Technical Theater
Lighting Design
Research Interests:

Chuck Catotti (M.F.A., University of North Carolina at Chapel Hill) has worked as a designer with area companies including Manbites Dog Theater, PlayMakers Repertory, Little Green Pig, Triangle Opera Theater, the UNC Drama Department, and the North Carolina Theater. He has worked as a lighting director for the North Carolina Center for Public Television and in feature film production for the DeLaurentis Entertainment Group in North Carolina and Los Angeles. He holds a full-time administrative position as Duke's Director of Event Management, where he is responsible for management and support services for performances, special events and conferences at the University.
Selected Film Credits

Weeds, 1987, Wilmington, NC; Los Angeles, CA
Selected Lighting Design Credits

Ragtime, April 2012, Department of Theater Studies
Edith Can Shoot Things and Hit Them, December 2011, Manbites Dog Theater
The Laramie Project, April 2011, Department of Theater Studies
Happy Days, September 2010, Playmakers Repertory Company
God's Ear, May 2010, Manbites Dog Theater
Neighborhood 3: Requisition of Doom, February 2010, Manbites Dog Theater
The Receptionist, February 2009, Manbites Dog Theater
Rabbit Hole, December 2007, Manbites Dog Theater
At the Vanishing Point, May 2007, Manbites Dog Theater
The Fall to Earth, March 2006, Manbites Dog Theater
Angels in America: Millenium Approaches, April 2005, Department of Theater Studies
Sonnets for an Old Century, September 2004, Manbites Dog Theater
Blood Wedding, April 2004, Department of Theater Studies
Silver River, January 2004, Manbites Dog Theater
Tomorrowland, September, 2002, Manbites Dog Theater
Mao II, April 2002, Department of Theater Studies
Our Country's Good, October 2001, Department of Theater Studies