Ara Wilson, Associate Professor of Women's Studies and Cultural Anthropology and Affiliate of the Duke Initiative for Science & Society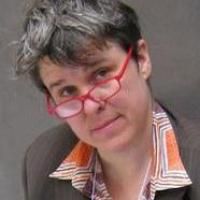 Teaching (Spring 2016): (typical courses)
Womenst 361.01, Money, sex, power Synopsis

East duke 204d, MW 01:25 PM-02:40 PM
Office Hours:

Email to set up an appointment
Education:
Ph.D. City University of New York 1997
M.Phil. City University of New York 1992
B.A. Vassar College 1984
Specialties:

Globalization
Sexuality
Asia
Research Interests: gender/sexuality in global modernity; urban Southeast Asia and transnational zones; cultural political economy and heterodox economics

Current projects: Sexual Latitudes: The Erotic Politics of Globalization (book),

Market Shrines in Bangkok,

Medical Tourism in Bangkok and Singapore

My work contributes to the feminist study of globalization and to what I call queer political economy (QPE). Through research informed by an ethnographic lens, my aim is to generate descriptions of social life within conditions shaped by transnational flows, especially operations of global capitalism. This requires combining attention to economics (which I undertake with qualitative, heterodox approaches) with feminist, queer, and post-colonial theories about social arrangements and about our ways of thinking about them. I have conducted long-term fieldwork in Bangkok, Thailand exploring changes to sexuality, gender and ethnicity in non-Western modernity. I am working on two projects. One is a book project, Sexual Latitudes, that ponders how the stage for sexuality is now global, for example through new forms of international sexual politics in the UN orbit or the alter-globalization movements. This interest also extends to reflecting on the concept of "intimacy" as a rubric in feminist and queer analysis and pondering the unfulfilled intersection of feminist/queer and economic analysis. A second project examines medical tourism to Thailand and Singapore, which continues my interests in the interplay of globalization and intimate, embodied life.
Duties:

Director of Graduate Studies; Representative, Arts & Science Faculty Council (13-14); Diversity Task Force; PI Duke-Mellon Project (Science Studies as Area Studies @ http://sites.duke.edu/stsasia/about-us)/
Representative Publications
(More Publications)
(search)
A Wilson. The Intimate Economies of Bangkok: Tomboys, Tycoons, and Avon Ladies in The Global City. University of California, February, 2004. [html]
A. Wilson. "Anthropology and the Political Philsophy of Hardt and Negri: Introduction." Focaal Special Theme Issue on Hardt & Negri (2012). [Wilson Focaal Introduction 2012]
A Wilson. "Medical Tourism in Bangkok." Asian Biotech. Edited by A Ong and N Chen. February, 2014.
A Wilson. "Feminism in the space of the world social forum." Journal of International Women's Studies special issue on the World Social Forum8:3 (December, 2014): 10-27.


<http://www.bridgew.edu/SoAS/jiws/April07/index.htm%3E>

[abs]
A Wilson. "NGOs as Erotic Sites." Development, Sexual Rights and Global Governance. Edited by A Lind. February, 2014.