Adam Hollowell
Adjunct Instructor of Education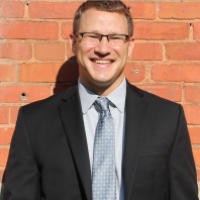 Office Location: 2024 West Main Street, Durham, NC 27705
Office Phone: (919) 613-1465
Email Address: adam.hollowell@duke.edu

Education:
Ph.D., University of Edinburgh (United Kingdom), 2009

Teaching (Spring 2023):
Teaching (Fall 2023):
PUBPOL 283.01, Ethics in an unjust world Synopsis

Sanford 05, MW 11:45 AM-01:00 PM

HISTORY 288.01, History of inequality Synopsis

Reuben-coo 329, Tu 01:40 PM-04:10 PM
Recent Publications (More Publications)
Hollowell, A, Paul Ramsey, in Just War Thinkers From Cicero to the 21st Century, edited by O'Driscoll, C; Brunstetter, D (August, 2017), Routledge [abs].
Hollowell, AE, Power and Purpose Paul Ramsey and Contemporary Christian Political Theology (January, 2015), pp. 240 pages, Wm. B. Eerdmans Publishing [abs].
Hollowell, A, Tablet and Sword: Religion and Violence in Recent Popular Scholarship on the Muslim World, Journal of Inter Religious Dialogue no. 11 (February, 2013), pp. 61-70 .
Hollowell, A, Just War and Statecraft in Paul Ramsey's Reading of Luke 14:28-33, The Journal of Scriptural Reasoning, vol. 11 no. 1 (August, 2012) .
Highlight:
Adam Hollowell serves as Senior Research Associate at the Samuel DuBois Cook Center on Social Equity and Faculty Director of the Benjamin N. Duke Memorial Scholarship Program. He completed his Ph.D. and M.Th. in theological ethics at the University of Edinburgh, Scotland and his A.B. at Duke University, where he was a B.N. Duke Scholar. His teaching and research focus broadly on ethics, religion, race, and public policy. His courses include Ethics in an Unjust World (PUBPOL 283) and Race and Public Policy (PUBPOL 190FS). He is the author of Power and Purpose: Paul Ramsey and Contemporary Christian Political Theology, which was recommended for Best First Book Award, Society of Christian Ethics. Follow him on Twitter at @aehollowell.