Robert L. Clark, Adjunct Professor of Mechanical Engineering and Materials Science and CNCS: Center for nonlinear and complex systems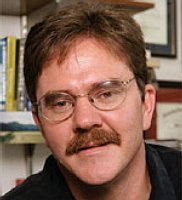 Please note: Robert has left the "CNCS: Center for nonlinear and complex systems" group at Duke University; some info here might not be up to date.
My research is in the field of dynamic systems, measurement and control, and my group's current focus is aimed at the development of new instruments for the exploration of single-molecule mechanics and for the deposition and control of materials at the nanoscale, required to enable an industry in bio-nano-manufacturing. This includes recent projects devoted to the study of multi-valency in molecular binding events and the use of enzymatic stamps to render surface patterning as an alternative to micro-contact printing. Our group continues to serve as a resource within the Center for Biologically Inspired Materials and Material Systems with respect to the development and advancement of new instrumentation and signal processing tools. Our most recent research activity devoted to quantitative assays, obtained through the detection of single molecule binding events was published in PNAS.
Education:

| | | |
| --- | --- | --- |
| Ph.D. | Virginia Polytech Institute and State University | 1992 |
| M.S. | Virginia Polytech Institute and State University | 1988 |
| B.S. | Virginia Polytech Institute and State University | 1987 |
Specialties:

Nanomaterial manufacturing and characterization
Acoustics
Biological Materials
Biological Materials
Acoustics
Photonics
Manufacturing
Controls
Vibration
Research Interests:

My research is in the field of dynamic systems, measurement and control, and my group's current focus is aimed at the development of new instruments for the exploration of single-molecule mechanics and for the deposition and control of materials at the nanoscale, required to enable an industry in bio-nano-manufacturing. This includes recent projects devoted to the study of multi-valency in molecular binding events and the use of enzymatic stamps to render surface patterning as an alternative to micro-contact
Keywords:

acoustics • Anisotropy • Artifacts • Base Sequence • Biocompatible Materials • Biomedical Engineering • Catalysis • Computer Simulation • control • DNA • DNA Damage • DNA Fingerprinting • Dose-Response Relationship, Radiation • Elasticity • Enzymes, Immobilized • manufacturing • materials • Micromanipulation • Microscopy, Confocal • Microscopy, Fluorescence • Microspheres • Models, Chemical • Models, Molecular • nanoscience • nanotechnology • Nanotechnology • Nucleic Acid Conformation • Particle Size • Polyesters • Polymers • Porosity • Radiation Dosage • Recombinant Proteins • Reproducibility of Results • Sensitivity and Specificity • Spectrum Analysis • Surface Properties • Tensile Strength • Time Factors
Recent Publications (More Publications)

Serpe, MJ; Rivera, M; Kersey, FR; Clark, RL; Craig, SL, Time and distance dependence of reversible polymer bridging followed by single-molecule force spectroscopy., Langmuir, vol. 24 no. 9 (2008), pp. 4738-4742, ISSN 0743-7463 [18348580], [doi] [abs]
Wulff, KD; Cole, DG; Clark, RL, An adaptive system identification approach to optical trap calibration, Optics express, vol. 16 no. 7 (March, 2008), pp. 4420-4425, ISSN 1094-4087
Wu, YQ; Johannes, MS; Clark, RL, AFM-based voltage assisted nanoelectro spinning, Materials Letters, vol. 62 no. 4-5 (February, 2008), pp. 699-702, ISSN 0167-577X
Henry, James K., and R.L. Clark, Active control of sound transmission through a curved panel into a cylindrical enclosure, Journal of Sound and Vibration, vol. 249 no. 2 (2002), pp. 325-349
R.L. Clark and Saunders, W.R., An intelligent systems approach to active structural acoustic control, 1993 Transactions of the SAE (1994)