Mohammadreza Soltani, Postdoctoral Associate of Mathematics and Electrical and Computer Engineering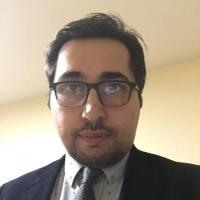 I am currently a postdoctoral associate in the Department of Electrical and Computer Engineering (ECE) at Duke University. I am working with Dr. Vahid Tarokh. I obtained my Ph.D. degree from the Electrical and Computer Engineering Department (ECpE) at Iowa State University (ISU) in 2019, where I was working under the supervision of Dr. Chinmay Hegde. I earned my first master's degree in Electrical Engineering from the Amirkabir Univesity of Technology, Tehran, Iran, and my second master's degree in Telecommunication with a minor in mathematics from the University of Nebraska-Lincoln (UNL),Ne, USA in 2011 and 2014, respectively.
Please note: Mohammadreza has left the Mathematics department at Duke University; some info here might not be up to date.
| | |
| --- | --- |
| Office Location: | |
| Office Phone: | +1 919 660 5252 |
| Email Address: | |
Recent Publications

Cannella, C; Soltani, M; Tarokh, V, Projected Latent Markov Chain Monte Carlo: Conditional Sampling of Normalizing Flows., Iclr (2021), OpenReview.net
Soltani, M; Hegde, C, Fast and Provable Algorithms for Learning Two-Layer Polynomial Neural Networks, Ieee Transactions on Signal Processing, vol. 67 no. 13 (July, 2019), pp. 3361-3371, Institute of Electrical and Electronics Engineers (IEEE) [doi]
Soltani, M; Hegde, C, Fast Algorithms for Demixing Sparse Signals From Nonlinear Observations, Ieee Transactions on Signal Processing, vol. 65 no. 16 (August, 2017), pp. 4209-4222, Institute of Electrical and Electronics Engineers (IEEE) [doi]