Joseph D Rabinoff, Associate Professor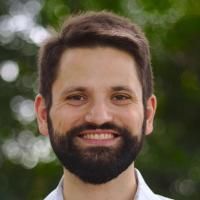 My research interests lie in number theory and algebraic geometry. More specifically, I do a lot of work on non-Archimedean analytic spaces and their applications to algebraic and tropical geometry.
Teaching (Fall 2021):
MATH 218D-1.001, MATRICES AND VECTOR SPACES Synopsis

LSRC A247, WF 12:00 PM-01:15 PM
Office Hours:

Monday, 1--3pm
Tuesday, 10--11am
Friday, 3--4pm
Education:

| | | |
| --- | --- | --- |
| Ph.D. | Stanford University | 2009 |
Specialties:

Number Theory
Algebra
Research Interests: Number theory, algebraic geometry
Keywords:

Arithmetical algebraic geometry • Curves, Algebraic • Geometry, Algebraic
Recent Publications
Recent Grant Support

Development and Applications of Non-Archimedean Analytic Geometry and Tropical Geometry, National Science Foundation, 2019/07-2021/04.