Alvin L. Crumbliss, University Distinguished Service Professor Emeritus of Chemistry and Professor of Center for Biomolecular and Tissue Engineering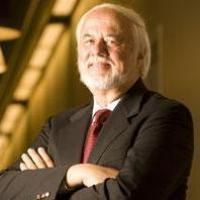 Please note: Alvin has left the "Center for Biomolecular and Tissue Engineering" group at Duke University; some info here might not be up to date.
Education:

| | | |
| --- | --- | --- |
| Ph.D. | Northwestern University | 1968 |
| B.A. | Knox College | 1964 |
| A.B. with College Honors | Knox College | 1964 |
Specialties:

Inorganic
Biomolecular Structure and Function
Research Interests:

Dr. Crumbliss is interested in the function, reactivity and control of transition metals in biological systems. A major emphasis is investigations related to the biochemistry of iron. Through application of in vitro and ex vivo biophysical techniques the Crumbliss group is investigating iron trafficking mediated by proteins and low molecular weight iron carriers (siderophores) in bacterial and mammalian cells. This research is relevant to understanding iron bioavailability, oxidative stress, and the relationship between iron and human health and disease. The redox behavior of various native, mutant and engineered hemoglobins is also under investigation with respect to their role in oxidative stress, signaling and cooperative oxygen transport, and potential application as cell free blood substitutes.
Keywords:

1,2-Dihydroxybenzene-3,5-Disulfonic Acid Disodium Salt • 2,3-Diphosphoglycerate • Adenosine Diphosphate • Adenosine Triphosphate • Adolescent • Adult • Algorithms • Allosteric Regulation • Allosteric Site • Amines • Amino Acid Motifs • Amino Acid Sequence • Anaerobiosis • Anemia, Iron-Deficiency • Anemia, Sickle Cell • Animals • Anions • Anti-Infective Agents • Antioxidants • Antitubercular Agents • Aplysia • Apoproteins • Artemisinins • Asbestos • Asbestos, Amosite • Asbestos, Crocidolite • Asbestos, Serpentine • Ascorbic Acid • ATP-Binding Cassette Transporters • Bacterial Outer Membrane Proteins • Bacterial Proteins • Bacterial Transferrin Receptor Complex • Beryllium • Beta-Globulins • beta-Lactams • Binding Sites • Binding, Competitive • Biological Availability • Biological Transport • Biological Transport, Active • Biosensing Techniques • Bivalvia • Blood Proteins • Blood Substitutes • Blood Transfusion • Boron • Bottle-Nosed Dolphin • Brown algae • Caenorhabditis elegans • Calcium • Calibration • Carbohydrates • Carbon Monoxide • Carbonic Anhydrase II • Carboxylic Acids • Carrageenan • Carrier Proteins • Catalysis • Catechols • Cation Transport Proteins • Cations • Cattle • Cell Line • Cell Line, Tumor • Cell Membrane • Cell Wall • Cell-Free System • Chelating Agents • Chemistry, Physical • Chlorides • Cholesterol • Cholesterol Oxidase • Chromatography, High Pressure Liquid • Chromatography, Ion Exchange • Chromatography, Liquid • Circular Dichroism • Citric Acid • Coordination Complexes • Copper • Crown Ethers • Crystallization • Crystallography, X-Ray • Cyclic N-Oxides • Cysteine • Cytochrome c Group • Cytosol • Deferoxamine • Deoxyribose • Deuterium Exchange Measurement • Dimerization • Dipeptides • DNA Damage • DNA Mutational Analysis • Dogs • Dolphins • Dose-Response Relationship, Drug • Drug Design • Drug Stability • Drug Synergism • Dust • Edetic Acid • Electrochemical Techniques • Electrochemistry • Electrodes • Electrolytes • Electron paramagnetic resonance • Electron Spin Resonance Spectroscopy • Electron Transport • Electrons • Enterobacteriaceae • Enterobactin • Environment • Environmental Pollution • Environmental Remediation • Enzymes, Immobilized • Epithelium • Erythrocytes, Abnormal • Escherichia coli • Evaluation Studies as Topic • Female • Ferric Compounds • Ferrichrome • Ferrous Compounds • Fibrosis • Fishes • Fluorescent Dyes • Free Radical Scavengers • Free Radicals • Gallium • Gene Expression Profiling • Gene Expression Regulation, Bacterial • Genetic Variation • Glucosides • Glutathione • Glycine • Gold • Gold Colloid • Gonorrhea • Haemophilus influenzae • Haptoglobins • Hazardous Substances • Heme • Heme Oxygenase-1 • Hemeproteins • Hemoglobin • Hemoglobin A • Hemoglobin A, Glycosylated • Hemoglobin, Sickle • Hemoglobins • Hemoglobins, Abnormal • Hemopexin • Hemosiderosis • Histidine • Histochemistry • Horseradish Peroxidase • Horses • Humans • Hydrogen Bonding • Hydrogen Peroxide • Hydrogen-Ion Concentration • Hydroxamic Acids • Indicators and Reagents • Inflammation • Injections • Ion Transport • Ionophores • Ions • Iron • Iron Chelating Agents • Iron-Binding Proteins • Kinetics • Lactoferrin • Leucine • Ligands • Lipid Peroxidation • Lung • Lung Diseases • Lysine • Macrophages, Alveolar • Magnesium • Magnetic Resonance Spectroscopy • Malaria • Male • Manganese • Marinobacter • Mass Spectrometry • Mathematics • Membrane Transport Proteins • Membranes, Artificial • Metalloporphyrins • Metals, Heavy • Methemoglobin • Mice • Micelles • Microbial Sensitivity Tests • Models, Biological • Models, Chemical • Models, Molecular • Molecular Chaperones • Molecular Conformation • Molecular Mimicry • Molecular Sequence Data • Molecular Structure • Molecular Weight • Multiprotein Complexes • Mutagenesis, Site-Directed • Mutation • Mycobacterium • Mycobacterium smegmatis • Mycobacterium tuberculosis • Mycorrhizae • Myoglobin
Current Ph.D. Students (Former Students)
Postdocs Mentored

Hakim Boukhalfa (2004 - 2007)
Recent Publications (More Publications)